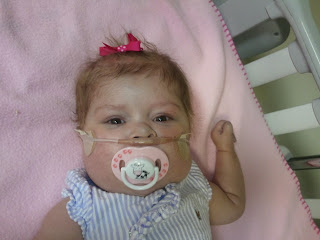 It's been a pretty decent week. No big issues. Part of me is irritated at myself for not being overjoyed at this. I really DON'T want issues. I really really don't. But I've never been very good at waiting. And this waiting is the WORST. I've already expressed in previous posts the fact that this wait is one of 1.) waiting for Annabelle to get worse and 2.) waiting for another baby to die.
I'm waiting on both of those things at the moment, and it STINKS. It just really does. And I'm tired of waiting. I really am. I'm sorry if this sounds depressing, but well, there it is.
BUT! (You knew there had to be a but… and not my growing one from all the chocolate I've been inhaling lately!)
GOD IS STILL GOOD.
God is still on His throne. He hasn't forgotten the Phillips' family here at Vanderbilt Children's Hospital. He hasn't forgotten Annabelle. He knows our pain and feels it too.
Funny story. (and because I like to write… it might be a little long, but I'll try to make it entertaining, I promise!)
When I was 16, my parents moved my little brother and I to Minnesota. I HATED IT.
Picture this:
4 adults, 4 kids, 2 dogs, in a one-bedroom VERY small A-frame with one bathroom.
NO running water, 45 minutes from civilization and 3 foot of snow on the ground in April.
I was not a pleasant 16-year-old when we made this move. We DID move from a nice suburben neighborhood where we lived in a 3000 square-foot-house. I mean, 16-year-olds are rarely pleasant anyway (okay, so a few might be…) but yeah, I was stomping my foot and refusing to be okay with this. (We melted snow to flush the toilet and take a sponge bath until we could get a well dug… I mean really, do you blame me??)
So, the snow melted, well was dug, summer came, and my aunt/uncle/cousins got a trailer to put on the property so I could sleep on the couch instead of on the floor in the hallway. (You think I'm exaggerating… I'm not! I STILL LOVE YOU MOM if you are reading this!)
Anyway… we lived on a big plot of land far away from a town. My cousin and I decided one day to take a walk. He had gone to school for a month right after we moved in… I homeschooled the rest of the year so had never been to the school. He said it was an easy walk, maybe a mile or two, down the very deserted highway. Personally, I was VERY out of shape so a mile there and back seemed like a REALLY long way.
But I was bored, so agreed.
We geared up with our tennis shoes, comfy clothes to walk in, water bottles full of cold water, and told his mom that we were taking a walk (we didn't mention WHERE we were walking), and off we went.
Please keep in mind, there is nothing but trees between our property and the school.
We walked for a while, being silly, talking about how much we hated being in Minnesota (we nicknamed it Frozen Hell… I know, not nice, but we were teens… MAD teens…), and how stupid our parents were. Normal teenage stuff, ya know!
We didn't drink any of our water bottles, because we wanted to save them for the way back.
On we walked… and walked… and walked. We were both drenched in sweat, and I was wondering just how far this stupid school was.
Finally we decided to give in and have a drink of water.
TOO LATE. Water was hot. I mean REALLY hot.
But Jason says, "No biggy… we'll just get some at the school!" Then he points up ahead to the curve in the road. "It's right after that curve… let's keep walking!"
Hope renewed, we walked a little faster, anxious to get to water.
We rounded the curve.
And nothing. That is what we saw. Well, nothing but trees that is. And way far in the distance, another curve. "Oh, sorry, it must be THAT one."
We rounded the curve.
And again, nothing except another curve in the distance. Jason was lucky he didn't get punched.
Eventually we came to an old abandoned schoolhouse, which Jason said he had forgotten about, and it was right before the school.
WOOHOO. But we rounded another curve… and again, trees as far as we could see.
Jason walked a little less closely to me at that point.
A few times I suggested going back. Jason just shook his head. "Nope, we gotta keep going. We're almost there, Krista!" (Well, that and we could use the phone there and have my aunt pick us up… but you know…)
Eventually, after we were both sunburned, dehydrated, and delirious (you know those silly cartoons/movies where they see mirage's in the distance??? Yep, that's about where we were!), the school appeared.
HALLELUJAH!!
We burst through the doors, which were open even though it was summer, a true God thing, and parked ourselves underneath the water fountains for about five minutes. Then we borrowed a phone and called for someone to pick us up.
Lesson: Keep going. Don't give up. You never know what the curve ahead will hold.
We tracked the miles on the way home… it was over 6 miles. Maybe this isn't a lot to some of you, but to that overweight 16-yr-old who was nervous at the though of walking a mile (and considering it was probably the hottest day of the summer for Minnesota and we had no *cold* water…) it might as well have been 100 miles.
AND… that overweight 16-yr-old ended up losing a LOT of weight in MN… and I credit that first 6 mile walk for a lot of it! I went from a size 14 to a size 8 in a year.
Unfortunately 4 kiddos and 8 months of stress eating later… yeah, we won't mention pants sizes now!
Anyway, that's where I am right now. We are walking this heart transplant road… I'm questioning even starting out on it, and I'm tired. I just want to be back home with my family, my WHOLE family, and recharge.
God knows this, though. And He's right here with me, telling me, "Keep going, It's just around the corner!"
Some (including myself lately!) might question God … why didn't you warn me the journey would be this long? Didn't you know? How could you make my family, my Annabelle, suffer like this?
But thinking back to that walk JayJay and I went on, the thing that kept us going was the prospect of the end being just around the corner. If we had known how long it was going to be at the beginning, we would have given up and turned back at the first hint of sore muscles or thirst. And we would have been defeated… missed out on our victory.
Maybe that's why God doesn't give us the road-map of life. Life, as we all know, can be hard. If we knew everything before it started, knew how long the hardship would last, would we really be better off? And if we went through life, everything being flowers and roses and no suffering, would we really be better off? Personally, I think we'd be a bunch of overweight, weaklings who never get to taste victory, that never get to feel the exhilaration of hard work and endurance paying off. And it'd be pretty boring.
I sit here today, tired and worn out. My spirit is weak, my family is dragging, and Annabelle's heart is struggling.
But there is a curve up ahead, so we'll walk on. We'll keep going.
Because victory is just right up ahead.. around the curve.