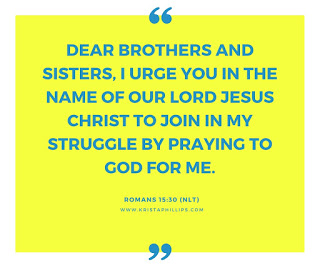 "Dear brothers, and sisters, I urge you in the name of our Lord Jesus Christ to join in my struggle by praying to God for me." Romans 15:30
I skimmed over this verse at first.
But when rereading the chapter, I paused at the words, "join in my struggle."
How many times are my prayers limited to a laundry list of my OWN struggles/wants/needs?
How many times are they just a list of "bless so-and-so"?
Do I truly stop and "join in the struggle" of those around me through prayer? Do I remember to join in the "struggle" through prayer with my church, my pastor, missionaries around the globe?
Something to ponder today.