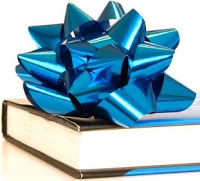 I'm VERY VERY excited to announce that Wednesdays during the months of November and December, I'll be featuring a "gift giving" guide for book lovers!
Each Wednesday until Christmas (minus the week of Thanksgiving and Christmas) will feature an author interview by yours truly, and I'll have a variety of genres represented to give you PLENTY of gift ideas for your Christmas shopping list! (or ideas to put on your Christmas wish list too!) Also, many of these weeks will have a special book giveaway too for one lucky commenter, so make sure you stay tuned!
All this said….
I AM SO READY FOR CHRISTMAS!
Yes, Yes, I know it isn't even Halloween yet. But for some reason I'm in the Christmas spirit all ready. Maybe because it's been colder here than usual for October. I don't know.
Am I the only one though, that has on and off years? Sometimes I get to December and I'm totally unfilled with Christmas cheer. Other years, I'm singing carols at the top of my lungs mid October.
In honor of my pre-pre-pre Christmas mood: Let's share our FAVORITE Christmas tradition!
I'll go first:
Okay, never mind. I can't think of just one, so… drum roll please…
Krista's Top Ten Favorite Christmas Traditions
Decorating the Christmas tree. Especially at the end… turning off all the house lights, and plugging in the tree lights. For some reason the beautiful lights shining out of the darkness just makes me sigh.
"Dad" reading the Christmas story before opening presents. A great reminder of why we celebrate and a moment basking in the wonder of what God really did for us.
Opening presents Christmas morning in our PJ's. It's a rule. No one's allowed to get dressed first!
Day after Thanksgiving Shopping. YES! I'm a 5 am girl. It's the thrill of the hunt!
Prime Rib for dinner on Christmas day. My mouth is watering at the thought!
The Johnson family Christmas carols… we don't remember half the words and a good many of us sing off key. Fun stuff!
Stealing kisses from my hubby under the mistletoe:-)
Hounding my hubby to put up the lights outside until you can see our house from space (slight exaggeration… and I make it up to him with the whole mistletoe thing!)
Making my ooey gooey chocolate caramel sugar cookies… Um, yeah, might have to make those early.
Candlelight Christmas Eve service. There's nothing like singing with a group of believers in Jesus and celebrating His birth together. It's always a precious moment when we get to do it.
So what is YOUR favorite Christmas tradition?