Friday was my sweet Gabby's 8th birthday.
*sniff*
I can't believe she is getting so BIG!!!
We don't do "friend" birthday parties often… especially the last few years because of the time and expense (both things that aren't in high supply around here!) but throw a family party.
But this year, I told the kids they SO deserved to be able to have a few friends over to celebrate their awesome day, since I'd been stingy on it of late.
So Kara and Lacy both had sleepovers because they are older and cutsie parties with themes are a little too "kiddish" for them.
Gabby, however, wanted a "Frozen" themed party, so we invited a handful of friends over on Saturday afternoon for a few hours.
Now, confession time.
This momma did NOT get the creative gene. I like the IDEA of being creative, and I love creating STORIES with WORDS, but crafty stuff…. not so much.
Much to my delight, I found a post by a fellow local mom on a Facebook "buy,sell,trade" site, offering up her leftover birthday supplies from her daughter's Frozen party.
SCORE.
Not only did she have a few plates/cups/tableclothes/cupcake rings/necklaces left over, she also had some homemade Olaf treat bags and a giant homemade Olaf figure as decoration, and a sign for the front door. She also had some amazing sparkly snowflakes as decoration too (impossible to find in the summer here for obvious reasons…)
All for $20.00.
SOLD.
This mommy snagged up the deal and happily decorated with hand-me-down crafts.
At the party we played a cheesy game of pin the carrot nose on Olaf and made mini-Olafs out of marshmellows/reeces/pretzels/frosting. They played "Olah, Olah, Sven" (aka duck, duck, goose) outside and "frozen" tag.
Great fun, fairly cheap, and yeah. I am a big lover in buying others left-over birthday crafts now!
Either that, or I'll make my teenage daughter help. She is a lover of all things crafts. (She and Lacy dressed up as Elsa and Anna so they could help with the party. Mommy appreciated!!!)
So what about you? Are you the crafty sort, or the party-in-a-box kinda woman?
Frozen Party Pics….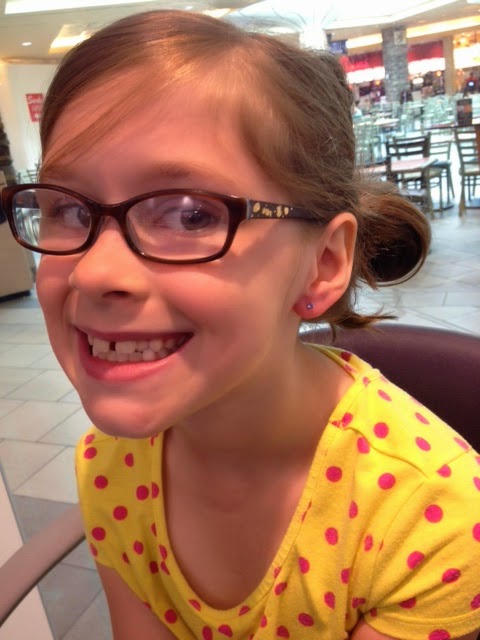 Her "big" present… EARS PIERCED!!! It's an 8 year old tradition in our family…..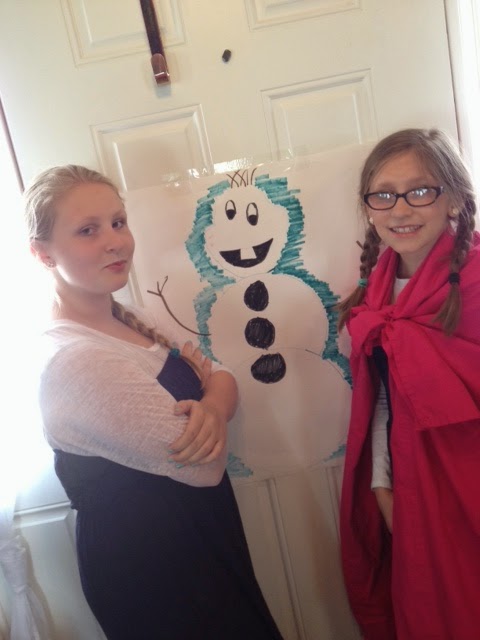 Elsa and Ana….