Last night, my hubby called me on his way from his day job to his evening job.
"What is the plan for tomorrow night?"
I scrunched up my nose in confusion. "Uh, same as always. Lacy has a softball game unless it gets rained out. You going to try and make it there, or you gonna have to work?"
A cleared throat came over the line. "I better make it there. I want to try to leave work early enough to have dinner with you guys."
While I appreciated the sentiment…. the kids get home from school, rush to do homework, shovel food down their throats, then pile into the van while I drive as fast as the speed limit will allow (*ahem*) to make it to the game on time.
So him wanting to have dinner with us on that particular evening was a bit odd. And he knows it. "Um, is there a specific reason you want to come home early and have dinner with us?"
"Yes, a good one too."
I glance down at my calendar, wracking my brain for what in the world he could be talking about.
Then it hits me.
We've sunk to a new low in our marriage. Well, maybe not low, but a new dimension if you will.
October 2nd is our wedding anniversary.
And I'd completely forgotten about it. So had he, as he then confessed that my brother-in-law, whom he works with, had actually been the one to mention it to him today, asking if he was driving separate and if we had any plans.
Shoot, crap. crud.
So what are our plans for this momentous 13th year occassion?
After a bit of brainstorming, we decided I'll be taking the kids to softball as usual.
Scott will be meeting us at the field with a pizza from Papa Johns or somewhere like that.
As my sweet 6 year old Gabby put it…
"It'll still be romantic, Momma. You'll be having dinner and a show… the show is the game!"
Yes, we're such romantics in the Phillips' household.
You know what though?? I wouldn't trade my dinner and a show for the world! Well, maybe for Hawaii or something… but really, I'm super happy just to know that I have a husband who loves me like crazy, and I know I love him back.
And we have 4 children and our angel baby as proof:-)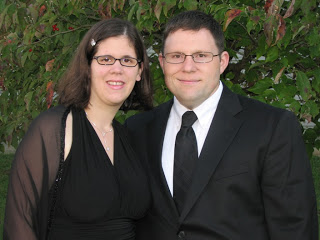 3 years ago… on our 10th anniversary!
(I also have this picture showing us kissing…
I didn't post that one… You're welcome!)
Happy Anniversary, sweet love!