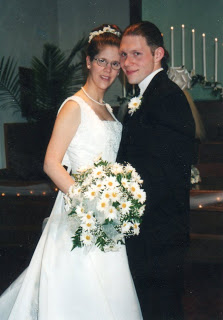 I'd like to take this blog post to wish my wonderful wonderful husband a happy TEN YEAR ANNIVERSARY!
My hubby is so sweet! I love him more than the day I married him! We've been through a ton, 3 kids, 1 miscarriage (waiving at Abigail in heaven), a brief stint at foster parenting for 3 wonderful… but trying… kiddos, 5 moves in 4 cities in 3 states, and a ton of personal high's and low's. He's my biggest cheerleader in my writing career, I would have quit a long time ago had it not been for his "You can do it!" attitude. He puts up with my slight bossiness sometimes (only slight of course…) and my need to correct his driving habits (You're going to slow!! Make the dadgum yellow light!) He gives me the bestest hugs both when I'm sad and need to be held, and when I'm happy and need to celebrate. He's a good kisser… but whoops, that TMI!
And with that, I'd like to leave you with the "cuppycake" song… IF you don't know our story, Scott and I met on an Internet chat-room when I was 17 (and married a year later…) One of the funny, cute things I remember was there was a "song" file you can send over the chat… and we used to send this to each other to be silly!
So here it is! I love you, Scott!! MMMMMMMMMMPMMMMMMMMMMMM! (inside joke…)