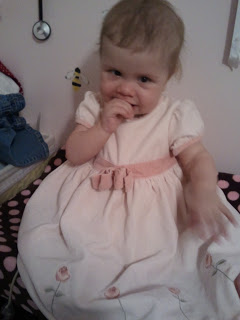 Miss Bashful in her pretty dress!
I hope you all had a FABULOUS Thanksgiving. I was so excited to post Thanksgiving pictures… but… I was so busy ENJOYING it that I forgot to TAKE any! How awful is that! Especially so since this was the first thanksgiving hubby and I hosted at our house, and Annabelle's first one home. But… make no mistake, this will be rectified at Christmas!!!
Saw the pediatrician last week and got Annabelle's first round of immunizations! She can't get any of the "live" virus ones (MMR, rotovirus, chicken pox, and others) but she can get the dead ones. It will be a process of getting them all made up though.
Talked to ped. too about Annabelle's teeth.
SHE HAS NONE!
The doctor said she had never seen a baby go past 15 months without teeth, so normally she would have xrays done to check to make sure they are in there like they should be. (I still wonder if they have baby dentures or something… I mean, do some kids NOT get teeth????) But I told her my eldest daughter didn't get her first tooth until 17 months old, so she agreed to wait until her 18 month appointment.
I'm really hoping that they are coming in now though!
Annabelle woke up at 1 a.m. Saturday night, which is NOT common for her. Even more odd, she was screaming/crying and wouldn't be consoled. This, in itself, is frightening to me, because that's what she did in July when she ended up being lifeflighted to Vandy in critical condition.
But, her sats were decent (well, they weren't decent when I got her up, but they rebounded quickly), so her and I rocky-rockyed for a long time, and after that and some tylenol, she finally fell asleep, and stayed that way for the rest of the night.
Sunday, she was still a crank-butt though. We braved church, but Scott had to talk her out not long after we got there, because we doubted the pastor would appreciate her high-pitched, ear-splitting screams.
I'm praying, very hard, that it is just teeth starting to break through, causing her a little (lot) discomfort. But irritability is also a possible sign of rejection, so this Momma is on full alert.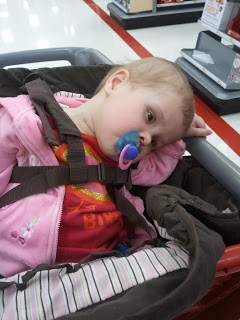 At Target… Annabelle decided 2 get sleepy!
The more the day wore on though, the more I was/am convinced that it is just teeth. She's putting everythingin her mouth, which isn't a new thing, but is also moving her lips in funny ways, likes she's trying to figure out what's going on. I'm afraid, she's just catching up and getting a bunch at one time!!! She, of course, won't let me ANYWHERE near her mouth, so I have only caught brief glimpses when she screams. No white stuff yet… but hopefully soon!
We have a FULL FULL FULL week ahead. Really, a full MONTH ahead. I'm trying really hard not to "overtax" us this Christmas season so we can ENJOY it… but that is proving VERY difficult. I have my first ever edits due right in the middle of the month, which needs to be my priority whether I want it to or not! And between doctors and therapies and kids school stuff and Christmas parties and trying to find time to finish Christmas shopping… my calendar is looking mighty full.
But the day I'm PROTECTING is this Friday. It's our DECORATING day!!!! I'm SO SO SO SO excited!!! We usually try to put up the tree the weekend of Thanksgiving, but decided to wait a week this year so we aren't so rushed and can ENJOY it!
I LOVE CHRISTMAS!!!!!!!
Hmmmm… maybe Annabelle will have her 2 front teeth by Christmas! *grin*