Well, we were supposed to move upstairs today. But there was only one bed available… and a few kids ready to go upstairs, so we stayed behind since Annabelle's blood pressure was still on the high side. It still is, but I haven't talked to the cardiologist yet to see exactly how concerned we are about it. They've already upped her BP medicine a few times, and it hasn't changed it at all. As long as beds are available tomorrow… we'll be headed upstairs tomorrow though!
Today was a decent day. Scott and I went out for the afternoon, since we know there won't be too many more times we'll be able to go "out" by ourselves once Annabelle comes home! We went out to lunch using a gift card someone had given us a while ago (thank you, Anonymous someone!) and then went shopping to get a few things that we had put off for a while. My wallet officially hurts now, or more accurately, my bank account! My husband rolled his eyes at me because I have such a hard time spending money on myself. Unless I'm getting it for dirt cheap, I about break out in hives. But even I had to admit that it was time to get a few things, and I didn't have time to scour 50 stores for the "cheapest" price.
AND we found Annabelle's "going home" outfit! SO SO SO excited to show you pictures in a week or so of her in it… on her way HOME! We also stocked up on a few things for her that we haven't really needed yet, given we are in the hospital, like SHOES! I still need to get some good ones that will help with her trying to learn to actually use those cute legs of hers, but I'll save that for another day!
Oh, and Scott and I splurged and saw a movie too! We almost skipped out after my heart failure at the Kohl's checkout counter… but when we got there we found that the 4:25 movie fell in their "extra cheap" matinee pricing (4 – 5:30) so it was only $5 a ticket! So WOOHOO for that! It redeemed (at least a teeny bit) my need for cheap prices!
We got back early evening, and Annabelle was doing well, although she seemed to be hurting more today than in the past. They'd given her an extra dose of some medicine to help (they'd weaned one of her pain meds today, not sure if that is why the pain or not…) So Daddy is snuggling with Annabelle right now while Mommy blogs and nurses a headache that just came on the last hour or so. HATE headaches, and am praying my Excedrin I just took does the job soon!
Speaking off Daddy, I wanted to take a minute to brag on Annabelle's daddy, aka my husband! You hear from me a lot, because I am the "writer" of the family, but this does NOT mean that my husband is silent. Well, it kinda does… my husband is a quiet man… but he is a WONDERFUL Daddy and has been a rock for me this entire time! When I worried and fretted, he held me and let me cry. He continually reminded me that God hasn't forgotten about our family and our plight, and while God and I both know he isn't perfect (and He and God know that I'm far from perfection too!), He's tried his best and his faith in God has remained strong and unshaken.
We are so different in a lot of ways, but we truely do compliment each other! When I want to run in front of God and plan everything for Him, my husband reminds me to be patient and wait on God, and He leads by example. On the flip side, when God is telling us to "go" and my husband tends to drag his feet a little… I'm there to kick him in the backside and get him going. We're the perfect pair!
So, all that said, I just wanted to publicly thank my cute hubby for being there for me and for leading our family… you are truly wonderful, my love!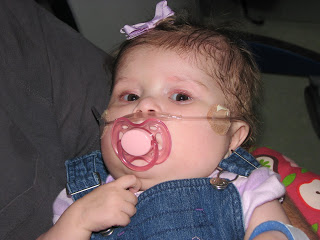 Pretty Annabelle!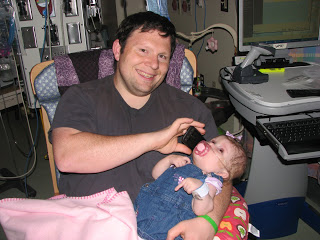 Daddy and Annabelle rockyin' tonight! He's letting Annabelle listen to one of her sisters on the phone:-) (And he didn't know I was taking the picture purely for this blog tonight…. *evil laugh*)