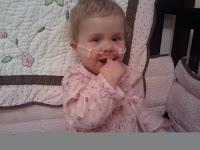 Hmmm… I SHOULD go to sleep!

I've realized something lately.
I "shush" and "hurry" my children A LOT.
More so lately than I used to.
The shushing I think is a direct result of spending 10 months in the hospital with Annabelle. Besides quiet conversations with nurses, the hum of the machines, and the TV on or music playing… it was fairly quiet. The only exception was when there was a "code" on the floor, then it was not so quiet, and it was scary, even if you weren't the parent affected.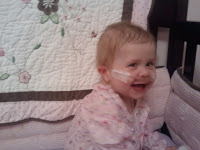 But being silly is SO much more fun!
So being back home, even months later now, is a big adjustment. Don't misunderstand… I LOVE LOVE LOVE being home and don't want to go back to the hospital with her for anything. But when you live somewhere for so long, you get used to that new normal. And adjusting back to having 4 kids, them all trying to talk to you at the same time, all of the girls who like to squeal, scream and cry very loudly.
I've become a perpetual shusher. Before, I was decent at tuning it out and having selective hearing, only tuning back in when something shouted, "This needs Mommy's attention!" It is a skill I lost and need to get back ASAP!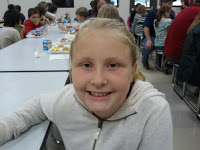 The hurrying thing I've always had an issue with. I like to go fast. (See post two weeks ago about speeding ticket…) Phrases like, "Just go", "Hurry up" "Go-Go-Go" or "What's taking you so long?" frequently grace my lips.
I do this even when there is no good reason WHY we need to hurry up.
I married this most wonderful man 12 years ago. He is very opposite of me in this regard. My hubby is ssslllooowwwwwwwww. And that is okay. We balance each other out. I help prod him along so he doesn't miss out on important things, and he can reach forward and pull me back, urging me to enjoy the journey.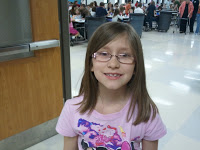 I'm realizing that my tendency toward hurrying up my kids is less about them being slow, but more about me needing to 1.) Manage them better so there isn't a REASON to hurry up (i.e. wake up early, etc) and 2.) slow down to match their pace and enjoy my time with them.
I've been SO SO SO excited about the holiday's coming up. This will be Annabelle's FIRST Thanksgiving and Christmas at HOME and the joy in my heart just bubbles up in anticipation.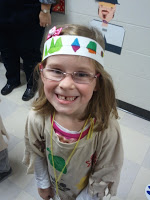 Yet, my brain is running with the billion things that need to be done. The list is a mile long. Yet, I know if I "hurry up" and focus on the tasks and all the things I want to "do", I'll miss the joy of the season with my family and will forget on the real reason we celebrate.
YESTERDAY, however, I took the time (and the risk of germs) and went to school to have lunch with my girls! They had the school's annual holiday lunch where they invite parents to come and eat with their kids. It worked out that all the girls had lunch one right after the other, with only 5 minutes in between each. So Annabelle and I went and had lunch with them. I "sat" with Lacy and Karalynn while they ate, and actually ate with Gabby.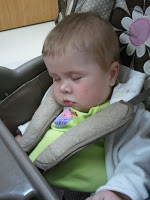 It was fun to see them at school, and I'm SO SO glad I wasn't "too busy" to enjoy it with them.
School, however, tuckered poor Annabelle out!
My advice for this coming holiday season: Stop and ENJOY IT!