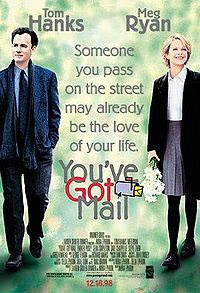 Someone asked last week if I had particular movies I use to get my creative juices flowing.
My answer? As a matter of fact, YES. I do.
And they are ALL romantic comedies. Obviously, this is because I write romance, and I love to laugh, so these all get me into the "mood" to write and get the wheels in my little brain a-turning.
Many of these are old, but they are my favorite, and ones that I watch over… and over… and over… and over again because they, imho, are classic romantic comedies that make me sigh and laugh every time.
Top Ten Romantic Comedy's (through the eyes of Krista)
How to Lose a Guy in 10 days
While you were Sleeping
Never been kissed
Runaway Bride
Sweet Home Alabama
The Princess Bride
Kate and Leopold
The Cutting Edge
Sleepless in Seattle
You've Got Mail
Okay, there are MANY more that are a close tie with these…. Anybody else have some good suggestions?
**side note** Daddy's surgery is at 7:00 this morning. Thanks everyone, for your prayers!