Could you please keep a few requests in your prayers this weekend?
A sweet boy of a heart-momma friend I know is going through a tough time. Up until a few days ago, he was doing GREAT! Going to 'school' for the first time like Annabelle. Steadily making improvement in therapies. But then he started to do not-so-good. They took him to the emergency room. He ran fevers. They rechecked his heart, it looked fine. They've checked everything, and so far can find nothing. Currently he is in the ICU on a ventilator, and they have no answers. He also spiked a 104 temperature this morning.
His name is Simon. And he (along with his mom and dad and brothers) could definitely use your prayers.
You can keep updated on sweet Simon on the Facebook page his Momma created for him: His Name is Simon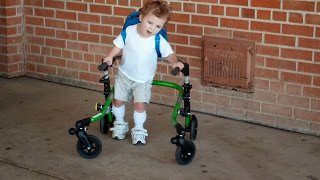 Simon rockin' the whole school thing!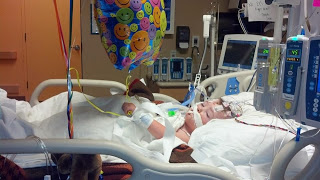 Sweet Simon, needing your prayers!!
Also, could you also please keep sweet Anna Reese in your prayers?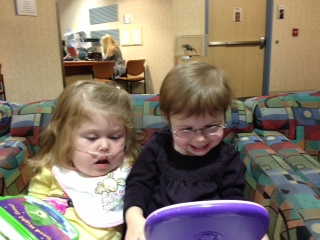 My FAVORITE pic of the BFF's…
If you remember, she is Annabelle's BFF. They were both at Vandy Children's together for a VERY LONG TIME, were next door neighbors in the ICU, and liked to scare their mommy's into taking them back to the ER on the same day so they could see each other. They are cute pills:-)
Well, Anna Reese is having her 3rd surgery next month… the one Annabelle would be having around this time if she had not gotten her transplant. Anna's course has been different then Annabelle's… she had her 2nd surgery but it did not go well with many complications. I aim to COVER sweet Anna in prayer before her surgery, pleading Jesus' blood over this sweet girl, that God would allow her to come through her third (and hopefully final!) surgery with FLYING colors and just totally baffle the doctors at how well she does. Could you please begin joining me in prayer??
There are so many other requests. So many other children struggling and fighting.
These are just two that are super close to my heart.
Thank you!!