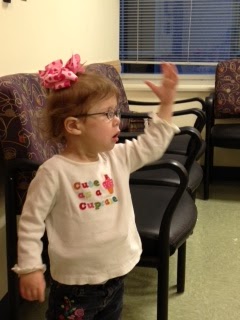 Annabelle: "I… Princess Annabelle…
declare that no more blood-letting should occur…
no more arm squeezing either by the evil cuff machine.
I have spoken, let it be!"
GOOD NEWS!!!!!!!!!!!!!!!!!!!!!!!!!
When Annabelle first came home from the hospital, we went to cardiac clinic 2x per week, sometimes more. This is a FULL clinic including labs, EKG, blood pressure, and echo. We then went to weekly (FINALLY) and then every other week and then mid-last year we went to once per month, and then end of last year finally once every other month.
And during this time she had labs taken each visit and once in between, so we've been on monthly labs all year, which REALLY stinks.


We hit a NEW milestone today though!
She got a THUMBS UP at her visit…. and now does not have to return for THREE WHOLE MONTHS!!!!!
AND!!! Labs are now every SIX weeks instead of every FOUR. Can I get a Hallelujah in here??? I know I can get one from Annabelle!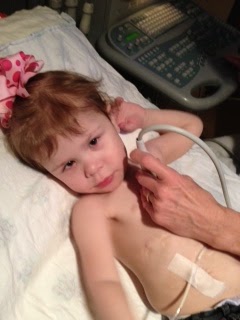 Yeah… I can look cute during an Echo!
That girl HATES having her labs taken (that, and blood pressure.)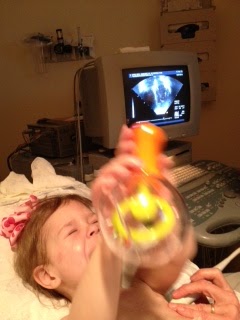 This thing is HILARIOUS!!!!
Today, she was calmly standing in the vitals room and the "blood" lady walked in. Annabelle turned around, and I can't describe accurately enough the extreme scream that could be heard throughout the entire clinic. It was seriously like she'd seen a monster or something and was just petrified. Half of me laughed because I have NEVER seen my girl so adamant, and the other half was hurting for my sweet baby who was so terrified.
If you think I'm awful for laughing… you have to realize that I've seen this sweet one pricked, prodded in every way possible since the day she was born. Blood taking (and her hatred there-of) is, unfortunately, not a new thing, so I'm a bit used to it. To a point, I've had to harden myself to it in order to cope with seeing this myself.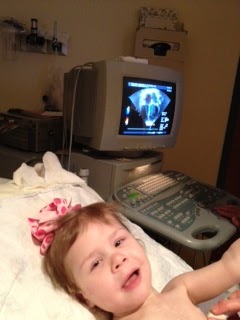 Annabelle and her 4-chamber heart…
Thank you donor family.
There are no words for how I feel
every time I see this picture of her heart…
But her terror today was a whole new level. I think she's just remembering a lot more. I'm hoping in the next year she'll get to the point of realizing that if she just sits and gets it over with, it'll be easier. They tell me that usually that happens between 3 and 4 with these kids that have labs taken so often. Mommy hopes so!
The only little concern we have is that her lungs had some course breath sounds in them today, May be following up with pulmonology to check it out.
In other news… (because I haven't shared news in a while, so figure now was a good time!)
Karalynn had a super fun time at her DI (destination imagination) tournament on Saturday. Sadly, they didn't advance to state, but they had a great time and did a fabulous job. They did a Minecraft thing. It was super funny…. many adults walked by with a perplexed look on their face, but almost ALL the kids that saw them were like, "LOOK!!! It's MINECRAFT!!"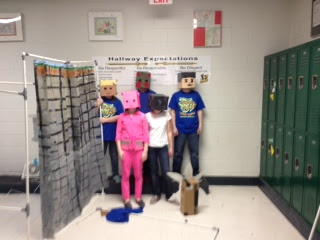 The girl,, the boy, the pig, the cow, and the zombie.
And for Lacy, softball season is in FULL swing. This is her first year doing fast pitch, so she's learning a lot of new stuff and is super excited about it.
Gabby is as sweet as ever. She's a girl after her Momma's heart. They had a "read-a-thon" week for school last week. She took it VERY seriously and would come to me and show me her 15 books she'd read and logged for the day. Yup. She's gonna be my reader, just like her momma!
Oh, and of course, hubby is doing well. Working ALL the time, which is a bit BOO, but also YEAH because the job he started in January is going really well. We have HEALTH INSURANCE again, can I get another Hallelujah??? I can finally replace my poor glasses that are scratched to the point that… you know when your computer screen is super smudged and you're like, what in the world is that… or you start seeing periods in odd places where there are none? Yeah, that's what my world has been like. So YEAH for insurance!
We are still doing a lot of praying about our future, and asking God for wisdom in some pretty big decisions we're facing. Your prayer for us during this time is appreciated!
Well, that is our update. Pray you all have a HAPPY Monday!
Anyone have any prayer requests or any HAPPY news to share of your own? I'd LOVE LOVE LOVE to hear it!