We can all think of the traditional romantic gestures. A kiss sweetly placed, a candlelight dinner, a walk on the beach, a surprise trip to Hawaii (a girl can dream right?), or the traditional gift of flowers/chocolate/jewelry.
These things are ALL wonderful and sweet, and I would take any of them any day from my hubby and be TRULY delighted!
On Friday, we talked about some gestures men can/do make that are outside of the normal scope of romance. By and large, many of you agreed that CLEANING is a huge one. It is for me too, although my hubby is home during the days so for me, it's less about romance and more about expectations. BUT… that said, when I come home and I can tell he's spent the whole day spiffing up the house, it does make my heart flutter!



Kaye made a great point in her comment… she used examples of things her characters had done that were romantic but not "normal," which totally played into my point for today's blog! Thanks, Kaye!
When we are writing romance, "out of the box" romantic elements can add not only depth to our story, but a richness to the romance as well.
Take a gift of a necklace. The reader might say, "Yeah, yeah, another necklace, whoopty do!" (Note to my husband: I personally would NEVER say whoopty do to any piece of jewelry given to me… all is appreciated!)
But let's say he gives a necklace and has engraved on it "I Love You." He gives it to her the first time he ever declares his love… now that's sweet! Or let's say it's a locket, and he puts in there a tiny token from the first place they ever kissed… oh, now that's sweet!
There are a billion other romantic things you could sneak into your novels to add to the romance. A non-traditional gift, a spur of the moment, out of character gesture.
Maybe it's Valentine's Day, and her roommate let's him in so he can make breakfast for his sweetheart, and she comes out (modestly clothed of course) and sees….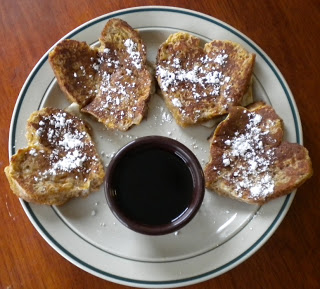 … heart shaped french toast waiting on a plate for her (this was from MY Valentine's day btw… although mine was breakfast in bed… changed the story a bit to be Christian romance appropriate!) , now THAT is sweet and romantic!
Then of course, you have to mix it up and add conflict, so heroine gets sick after eating said french toast and has to go to the hospital where they find out it was food poisoning and they think that the HERO is the culprit, but at the end find out it was actually the jealous roommate who had a crush on the hero so was trying to kill off the heroine and have the romantic hero all to herself.
Discussion: What are some unique romantic twists you've seen either in a.) a romance novel you've read or b.) your own writing?