I know, I know, it's romance month and I promised all my posts would have SOMETHING to do with romance.
Well, I'm thinking since many times romance… (hopefully after marriage!) leads to BABIES, that this post will qualify!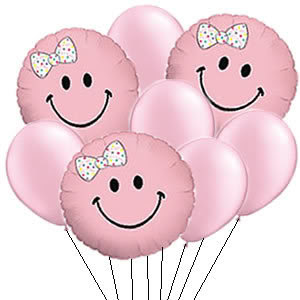 IT'S A GIRL!
Yes… I already have three girls… so we will be a big princess, pink, giggling, estrogen filled household!
Yes… I'll probably save a little money on clothes, but there will be almost 4 years between Gabby and the baby. Um… so I will save the clothes, but I was the youngest of 3 girls in my family and got A LOT of hand-me-downs… and let me tell you, then were so grossly out of style, especially once I got older. Considering I'd already gotten rid of "baby" girl clothes… yeah, there will be some staples shared but I will NOT subject my baby to all hand-me-downs.
Yes… I'll have four weddings to pay for. I can hope that one or more of them choose a small simple wedding… or maybe eloping??? (just kidding… they'd be in SO SO SO much trouble!)
No… I have NO names picked out yet. We had a boy name that we kinda liked, but all my girls have 2 middle names, so between those three and baby Abigail with Jesus… that is 10 names I've already picked out! Add to it the names of my heroines of my books that I don't want to reuse…
No… I am NOT sharing names this time before baby is born. It will be a surprise to all (maybe even me if I can't think of something! ha!)
Thought I'd share some pictures of my wee little one! She's only 16 1/2 weeks old… so it's still blurry… but I cherish them none the less!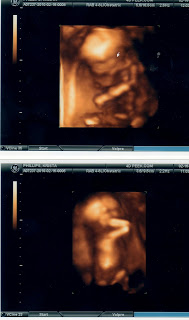 Discussion: Don't you just LOVE babies!?! That's not much of a discussion point… but I'm tired and droopy this morning so it'll have to do!