Day 2 of Steroid treatment: Annabelle slept most of yesterday, and when awake, was horribly cranky. At the moment she is happy, because I have her my "parent" wrist band. She is trying to play with it, but having a hard time since she has an IV in her right hand. She's trying her best though! Biggest issue today is getting some fluid off, since steroids make her retain water which is NOT good for her breathing status.
Still unsure of heart cath date… will probably decide for sure on Friday. Could potentially be as early as 6/9. HOPEFULLY we should be able to go home on Friday though, or that is the plan currently!
My sister and I were talking on the phone the other day after Annabelle was admitted into the hospital. I was telling her how they feared her body might be rejecting her heart, and we were both just sad, although that seems like the understatement of the century.
She sighed and said, "I just wish this was done, Krista. I wish it was all over and you didn't have to go through anything of this anymore. Sometimes I just don't want to think about it, and just pretend none of this is going on."
I smiled, because I'd felt the same thing SO SO SO many times.
But this is what I told her, and this is what I feel God has been trying to tell me SO many times, but until I had to explain it to someone else, it didn't really hit home for me.
The only other option is for Annabelle to not be here at all.
I know that sounds awful, because the thought of it IS awful, but really. When I just want to give up, when I want to quit and just fall on the floor and pray that God takes all this crud away, I feel like God is saying, "Okay, but if I take it away, then Annabelle gets taken away with it."
Put into that perspective, bring it on. That's all I gotta say. Just the thought makes me stand up and go another day, to press on, to grab hold of Jesus and say, "Let's keep going then."
The fact is, Annabelle was born with a broken heart. They tried to fix it, and it didn't work. They tried to replace it, and while it worked, she has a lifetime full of medications, possible rejection and retransplant, and other risk factors. This is something she, and all who love her, will ALWAYS have to deal with. It isn't going away.
I'm finding that when I really accept that reality, I can move past my complaining and onto living this new setting of life God has given us.
Because Annabelle is TOTALLY worth it.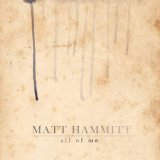 On a similar note, Matt Hammitt, daddy of Bowen (who was born in September with HLHS) and lead singer of Sanctus Real, just debuted a new single yesterday called, All of Me. An amazing song that says no matter the hardship, regardless of the fact that with our little heart babies, we are never promised tomorrow, we are still to love them with OUR whole hearts.
Because every single, blessed day is special. Even if you only have your baby for a day, a month, a year, or 80 years.
The song also makes me smile, because it is so EXACTLY how I felt when Annabelle was born. She was worth giving my whole-hearted love, and if I should, God-forbid, lose her, every day I have with her is worth the pain later.
Matt and his wife Sarah recently started a foundation called the Whole Hearts foundation for families and individuals with congenital heart defects. A portion of the proceeds from the sale of All of Me, as well as the upcoming album it will be on, Every Falling Tear, will be donated to the foundation to help CHD families. You can read more about it on www.bowensheart.com. I just downloaded my copy (from Amazon… you can download the song on iTunes as well), please considering doing the same and spreading the word! It's a small way you can help… for just 99 cents!
Speaking of help, I want to send a BIG thank you to all who have brought meals to our home thus far and have signed up to bring us meals over the next month. Your outpouring of love is so amazing to us! Also, those who have contributed monetarily to our family during this time of uncertainty, it means more than I could ever say. God has truly used your prayers, love and support to uphold us during this time, and we appreciate it so very much!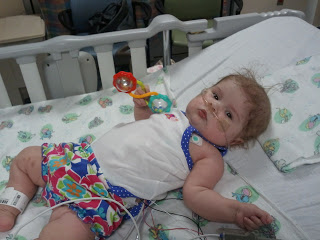 In the ER on Monday…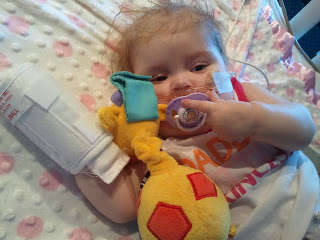 This morning… playing with her binky and giraffe! She is not pleased that she can't use her right hand…