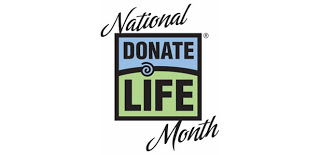 I have a LOT of causes that I am a HUGE advocate for because of our experience with Annabelle… including but not limited to CHD awareness (and the HUGE need for more funds for research), newborn pulse-ox screening for heart defects, the extreme value and fabulous work of the Ronald McDonald house, the Children's Miracle Network, children's hospital volunteering… just to name a few.
But an obvious cause that is close to my heart as well is organ donation.
April is National Donate Life Month. I couldn't let the month go by without a friendly reminder of the IMPORTANCE of not taking your organs with you when you go.
Currently, over 118,000 people are waiting for an organ donation.
18 people die each day waiting for a donor to become available.
1 organ donor can save up to 8 lives.
In 2011, 281 infants under 1 years of age received an organ donation. Annabelle was one of them.
(statistics were found at organdonor.gov)
Organ donation is not a comfortable topic. I get that. Prior to Annabelle, I'd given it virtually no thought. I figured when I died, they could donate if they wanted to, I didn't care. But there is a big misconception that the medical community does not do everything needed to save a person if they are an organ donor. That is simply not true. (and if it was true, I'd be the first to fight AGAINST such practices.)
As a parent, I did not sit in a hospital room and pray for someone else's child to die. In fact, I sat there most days, watching my own child die slowly, my heart breaking at the thought of someone else losing their precious one, at the fact that it was the only way for my baby to live. There are no words to adequately describe that horrific feeling.
But I determined not to dwell on it… I did not desire another child to die, only that if the unthinkable happened, that their parents would be able to make the choice to allow another to live, even in the midst of their grief. I prayed that the parents would be able to ENJOY every moment with their child, that they would treasure every smile and giggle.
It's all I knew to pray for.
I know most of you have heard me/read me talk about organ donation, so I won't go on. But this is just my annual shout out for the cause… if you aren't a registered donor, you can go here to find out how to register in your state.
Discussion: Has anyone you know been touched by organ donation? Either been a donor or received a transplant?