It's funny that I'm "announcing" my book title today.
My agent blogged about the importance of a good title today! A bit ashamed, I confess that I was much like the author she mentioned in her blog. My "working" title I didn't think was very good, but I slapped it on there, knowing a publishing house would probably want to change it anyway.
In my defense, when I first wrote my book, I intended it for the "Love Finds You in (insert cool named city)" series. But when I was finished, I just had a feeling it wouldn't be a good fit for that line. So when I entered contests, I changed the name to "A Sandwich Romance" just for ease sake.
Confession: I HATE COMING UP WITH TITLES! Writing the book is fun, but creating a title is mind-breaking work for me. Basically you're trying to sum up 80-100k words in just a few really catchy ones.
Yikes!
Here are a few reasons why I stuck with my working title when submitting though.
I write romance. And I think a title that "shows" that the book is definitely romance is a good thing. Words like Bride, Groom, Love, Romance, and Wedding are all GREAT to have in a title (although there are plenty good ones without…)
My book is all about sandwiches. It fit!
Confession: Pure and utter laziness
BUT! I was blessed that my publishing house, Abingdon, looked past a blah title and contracted my book anyway!
And, when Rachelle e-mailed me a copy of the final contract, and I clicked open the document…
I found a surprise!
There was a title, other than my working one, listed on the contract. I quickly e-mailed her, asking if this was the final final title. I was told it was the approved title, but if I didn't like it, I could offer suggestions and they would take them into consideration.
I LOVED that they gave me this option, but the more I thought about the new title, I just felt that it fit.
I write funny inspirational contemporary romance (how is that for a mouthful of a genre!) My title is fun and still has the word romance in it! Wahoo for that!
Okay, I've strung this out long enough. Do you want to know what the title is yet???


Sandwich, With a Side of Romance
It fits because the setting is the small town of Sandwich, IL (where I was born and lived till I was 5, incidentally!) The hero owns an upscale sandwich restaurant. And the heroine finds herself the gooey filling stuck in between her new boss, who she has a senseless crush on, and his fiancee, who despises her and wants to make every moment of her life a living not-very-nice-place.
Lots of sandwich drama here!
So…. what do you think of my title? For your readers out there… when you go into a bookstore or look on amazon for a book… how important is the title?? What do YOU think makes a good book title?
*Annabelle update*
She's doing well. No major issues. Feeding is still a problem. After 4 days of eating like a champ, she decided, na, not so much anymore. We still make her eat 3 times a day, but she isn't pleased about the matter. (see picture… I looked away for literally a moment and there went the whole jar of carrots!)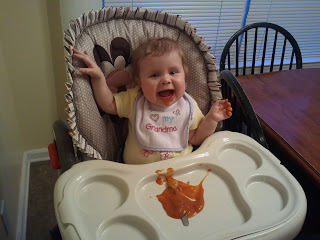 Annabelle: LOOK Momma! I can't eat them now!
However, what she didn't realize is that the tray was clean… so Momma just fed her off the tray. She was a big chagrined after that.
Clinic visit today. Please pray for good lab results and just a good visit overall!
Oh, and remember baby Scarlet I asked you to pray for a week or so ago???? SHE IS GETTING HER HEART TODAY!! Her Momma updated Facebook late last night that they'd gotten their heart call! THANK YOU JESUS! Please pray for little Scarlet today as she gets her new heart, for few complications, and that her body can recover for any damage her old heart may have done. Of course, please keep the donor family in your prayers as well. Reminds me again, of how appropriate the song I posted about on Saturday is.
To summarize:
Yeah for fun book titles.
Boo for Annabelle not eating.
Yeah for a heart for Scarlet!
(And yes, I made a yeah-boo sandwich on purpose! It's monday morning, with not a lot of sleep, I'll roll my eyes at myself later…)