I do believe I've officially lost my sanity.
I really truly can't find it anywhere. I had been hanging on to it by an itty bitty thread for quite a while now. But I'm pretty sure it's done gone and snapped right in half.
I KNOW that I need to have patience.
I KNOW that other kiddos in the ICU have much more troubling things going on.
I KNOW that I need to spend my time praying for them instead of belly aching.
I KNOW that my irritating mood has NOT shown the most Christ-like attitude these past few days.
I KNOW God's timing is perfect, and nothing the doctor's do can mess that up.
I KNOW all of these things… but it has not kept me from wanting to throw my shoe at a few people and throw a fit in the middle of the ICU.
Please note: I would never really yell. I don't think so anyway. I really WANT to though. And I would never really throw my shoe at someone… I hope. But just that I have the intense desire to is not a great sign.
So, Annabelle had her Nissen/G-tube on Monday. There was a slim chance of coming off the ventilator before coming up to the ICU, but we knew it was not likely. Sure enough, she was on the vent, but she was also being fiesty as all get out, was breathing over it really good, so they didn't think it would take long.
Plan was to do a CPAP trial at 4 a.m. Tuesday morning, then extubate after doctor's rounds. As you read in my last post, we had a major CPAP fail because she was also running a fever at the same time, so probably not the wisest time to do a trial run.
Tuesday Doctors rounds: New plan. If she is fever free, we would do CPAP trial that afternoon and if she does well, extubate late afternoon.
Tuesday Afternoon: Got busy… no CPAP trials done even though she was fever free.
Tuesday Evening: Said we would do CPAP trials overnight and extubate before doctor's rounds in the morning.
Tuesday Night Dr Rounds: No cpap trials overnight. Something about air in her esophagus that made no sense.
Wednesday Morning: I complained to RT about no CPAP trials due to air in esophagus. She agrees that was silly. Gets permission to do one. Annabelle does fabulously.
Wednesday Surgeon meeting: Nurse from day before put NG tube down in stomach instead of esophagus, so of course this did not cure air in esophagus problem. Pull it up 5… problem solved. Voila. Good to go for extubation today, then FEED HER!
Wednesday Dr Rounds: No IV nutrition because we'll extubate today. One CPAP trial then extubate this afternoon.
Wednesday afternoon: CPAP trial goes GREAT. Doctor's too busy to extubate. Will do in evening.
Wednesday evening: Um, we don't do extubations in the evening plus we're still busy. We'll do 6 a.m.
Wednesday night: continue CPAP trials and she continues to rock them.
Thursday 6 a.m.: Still too busy.
Thursday 8 a.m.: Will go find doctor to try and get it done prior to rounds.
Thursday 9 a.m.: Nope. Too busy. Must start rounds.
So at this point, let me highlight that I'm not just irritated because of all the busyness and changing minds.
I'm irritated mostly because:
1.) My daughter has not eaten ANYTHING since Sunday night. She is on maintenence fluids only. Usually she can eat 24 – 48 hours after G-tube placement. But she can't eat for 6 hours prior to extubation. So since we've been trying to extubate since tuesday… no food.
2.) My daughter is MAD. She HATES her tube and does these horrible silent cries that just break your heart. It would be totally completely different if she NEEDED the tube. But she has been ready for days, and she is miserable. There is nothing more frustrating and irritating to a mother than to watch your baby needlessly suffer when there isn't one thing you can do about it. It's enough to make one want to throw shoes at people.
So here we are. Almost Noon. Still waiting to be extubated.
*sigh*
Let me reiterate. I KNOW there have been some severe cases in the ICU and in no way am I saying my baby is more important than them. I really DO understand. And later on, I won't be mad at THEM. I'm more mad at the situation. I'm mad that I can't do anything to make it better. I'm a "fixer" and I can't fix this myself.
I also KNOW the correct answer is to wait on God and know that His timing is best. But sometimes the wait just gets to you. And the last few days, it has gotten to me really bad. Which is weird because when I look at the whole of things, we're doing pretty decently. Barring any other complications, things are starting to look like we might get out of here in the next few weeks. Wouldn't that be amazing??
But I'm operating in my 24 hour window. And the window is a very frustrating one right now!!
So, please say a prayer today for Annabelle's extubation to go well… and to GO in the first place! A prayer for Mommy's patience and endurance and for me to be a little less high-strung would be great as well.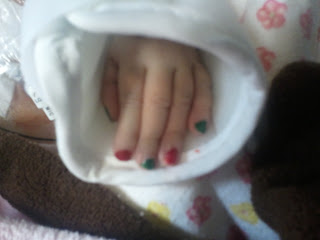 Merry Christmas Nail Polish. Took advantage of some heavy, post surgery sedation!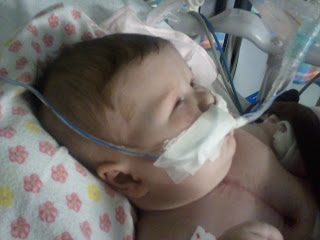 I came back from eating dinner last night to find a little marshmellow in place of my Annabelle. It was so bad she could barely open her eyes for a while. She had a HUGE diaper not long later, and slowly she looked less like puff the magic marshmellow:-)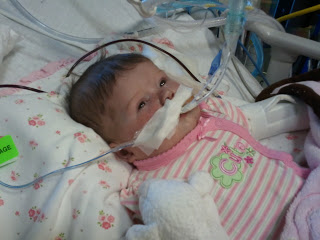 Not long ago. Getting some more blood (her counts were low…) and dressed for her extubation party! She thinks this party is getting delayed way too much! 🙂 She's ready!!!