It has not been a great night.
Annabelle got increasingly fussy, crying in pain when there really should be no reason for pain. We gave her pain meds, and it only helped mildly, and she was working harder to breathe.
They took a blood gas, and it was off the chart. Literally. Her CO2 was >115… 115 is as high as the measuring goes. They emergently put her on the ventilator at 4:00 a.m. this morning.
It is almost unreal to me. Less than 48 hours ago we were at HOME doing not great, but decent. How in the world could things have spiraled down so fast? I'm just… in shock.
I put music on from my phone for Annabelle in the middle of the night, trying to calm her down. The song "You Raise Me Up" by Josh Grobin came on.
"You raise me up so I can stand on mountains,
You raise me up to walk on stormy seas.
I am strong, when I am on your shoulders.
You raise me up to more than I can be."
What it me is that, it doesn't say "calm the stormy seas" it says "walk" on stormy seas. That's what struck me.
Earlier this week, before her heart cath, I just had this overwhelming feeling that everything wasn't going to be nice and neat, and that God was preparing me for it to be a rocky road. I don't say that because I didn't have faith, but because I think God knows me, and he was helping raise me up to be able to walk on this very, very stormy sea.
We were scheduled for 2nd case OR tomorrow, with the hope that we could put it off until Friday or Monday.
But it is looking like they will most likely bump us to 1st case given her rapidly worsening condition.
I just… I'm just still begging. Pleading, God to heal her and make this work. The doctor's aren't certain that this is what is wrong, but are taking their best guess. If it doesn't work, I'm just not sure what the next step is. I really really want my smiling Annabelle back, the one I can dress up and cuddle and rock and play with. I want to work on what seems like really minor things now, like eating, and rolling over, and sitting up, and talking.
I really really do, Jesus. Please.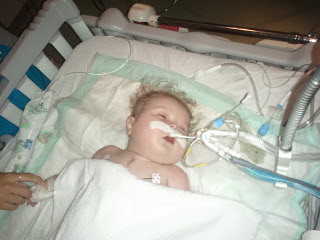 A very sad picture… And I just realized when I was posting this… that today is Annabelle's 2-month heart birthday. *sigh*