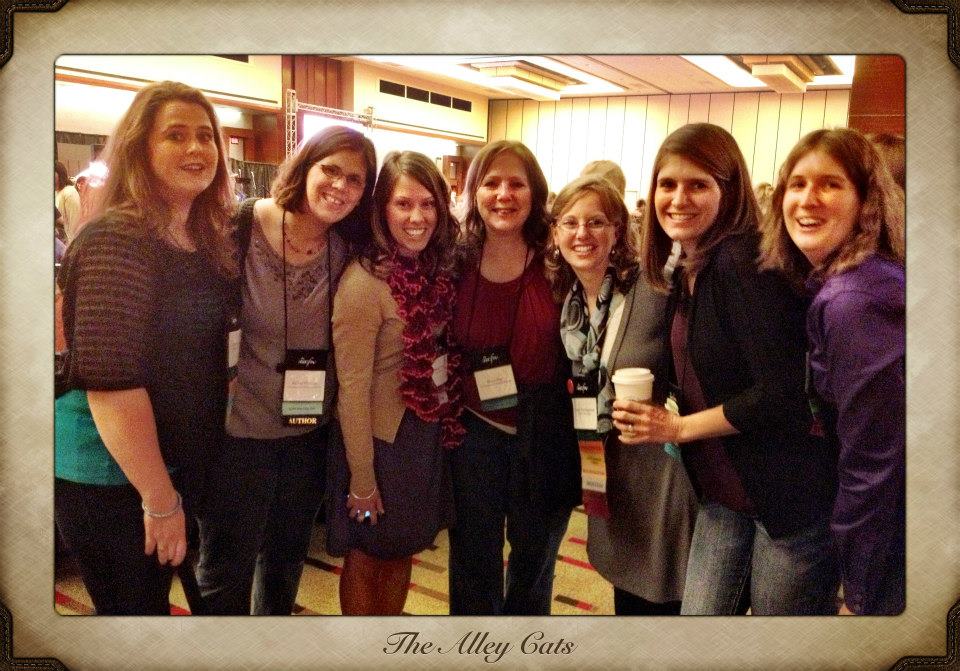 Me and a few of my fellow alleycats… Oh goodness I love these ladies!
For those who haven't followed my blog for a ton of years, you may not have heard me gush about attending the annual ACFW conference.
I didn't get to attend for a few years because, of course, Annabelle was SO SO SO much more important.
But this year, I'm GOING again and I'm SO VERY EXCITED!!
There is just something about being surrounded by 500ish other writers, all who write with the goal of glorifying GOD with their stories, that is just pretty amazing. Plus, a writer's brain is weird. It takes a writer to "get" a writer
I once had a married (minor) character in a book (not one I've published…) and told my husband that the character would be the hero in the next book.
Hubby: But… he's married.
Me: Oh, I know. I'm gonna kill her between books so he'll be a widow.
Hubby (looking concerned): Um….
See? Not many can be okay with that. It's, well, kinda creepy.
Anyway, ACFW is a time to reconnect with other writers, I'll MEET my new agent for the first time, and PITCH my newest project to editors, which is a fairly big deal in and of itself.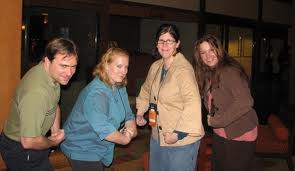 Oh yeah. We were buff writers……
A writer friend of mine (waving at Laurie!!) came up with the idea of doing a "pre-conference" mix and mingle via our websites, and I thought I'd join in!! The idea is to answer a few questions about ourselves, post it on our blog, then link up on her post, so other attendees can browse each others sites and find out more info about writers who we'll meet.
Now, I know a good deal of my readers aren't writers so obviously won't be attending, but the questions are fun so I thought you might like a peek into ME!
Without further adu…
Name: Krista Phillips
Location: just south of Nashville, TN
What you write/tagline/trademark: Contemporary Romance (also known as romantic comedy) / Finding Joy in the Journey (my blog tagline, but also applies to my writing!)
Place in the book world: Published my first novel, Sandwich, with a Side of Romance, with Abingdon in 2012. Indie-published a novella which released last month, A Side of Faith, and plan 2 more novellas in the next year. Currently working with my agent, Sarah Freese, of Wordserve Literary to polish and submit another full length novel.
On a scale of hugger to 10-foot-pole, please rate your personal space: I'm super cool with hugs, but do a mean handshake too since I know not everyone is super cool with hugs!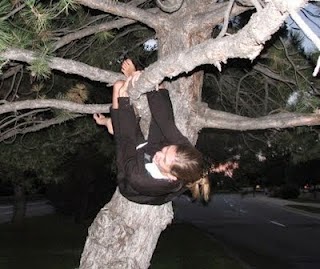 Jessica was a much better monkey!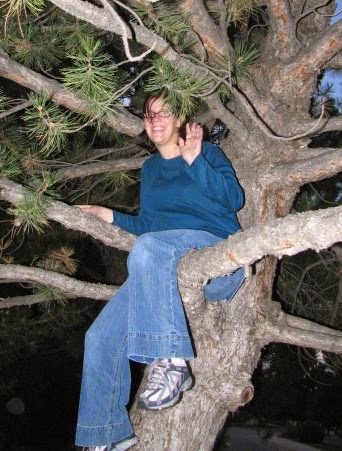 Monkeying around….
The unique talking point that will get you going for hours: Books, Dr. Pepper, my kids, organ donation, anything heart related, Jesus
Loved ones at home you'll be missing: My hubby and 4 girls. I'll miss them a TON but I'll be honest, I've learned the art of enjoying my time away when I get it! ALL momma's need a break from time to time!
Conference goals we can pray for? I'm pitching to editors for the first A Side of Faith) So prayers that I can be confident without being annoying would be GREAT!! (I'll also have "I heart sandwich" buttons for anyone who wants to help spread the sandwich news at conference!!)
time in MANY years at conference. I'm also marketing my current novels (particularly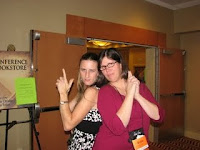 SUPER WRITER SPIES!!!!
Anything we can celebrate with you? LIFE. You can celebrate my new release, but God's taught me the last few years that LIFE and JESUS is so much bigger than any book release could ever be, regardless of the number of books sold.
One or two ways we can help you build your platform?
Yeah!!! You can like my
author page on Facebook
, follow me on
twitter
, and/or sign up for my newsletter (see signup on the sidebar of this blog!) (No spamming… I literally send out an email 3-4 times a year, if that!) Whoops, sorry, Laurie, that was three things!!!
Okay blog readers, I'd love to know more about you, too!! Share as little or as much as you want. Name, area you live in, age, social security number (JUST KIDDING, please don't share that….) what God is doing in your life, what your dreams are….
I'm always sharing with YOU about me and my crazy life… I'd love to hear about YOU!
And if you're a writer attending ACFW, go to
Laurie's site
and link up!!