All you history buffs out there are arching your eyebrows at my subject. I know.
This is why I write contemporary romance not historical!
*grin*
So, Imagine this:
It's 12:30 in the morning. Krista is in bed and closes a book that she just finished and yawns. She should SO not be staying up so late!
Scott is at the computer searching for info on how to grow his many plants that he has cascaded across their back porch. Krista tells him it's time for bed, they have church in the morning! Like the dutiful husband he is (he really doesn't relish the couch after all) he complies.
Thirty minutes later, after routine teeth brushing and getting PJ's on, and Scott spending ten minutes trying to fix their stupid dad gum toilet that for some ridiculous reason will NOT stop running, both are snuggled in bed, drifting off into night-night sleepy land.
The room is dark and sleep is circling overhead when BAM. A clash, clunk, and shatter is heard from the bathroom loud enough to wake the dead, or at the least send sleep scurrying out of the room, replaced with shock, fear, and trembling.
Krista of course pushes Scott out of bed with a, "WHAT IS IT!? I'm scared, PROTECT ME" Scott glares at her, not really wanting to face whatever the heck is in the bathroom.
He gasps. Krista cowers in fear.
"Krista, the toilet. It's demolished. I think it blew up."
Krista imagines shreds of glass. Did someone put a bomb in the toilet?????
Husband looks like he's going to pee his pants. Not good for a 32 year old. He takes a few steps closer, and says, "Wait. I think it's the cabinet, and it must have cracked the toilet."
Krista thinks, the cabinet blew up???
At this point Scott is still across the room, trying to look into the dark bathroom and not really having much luck. Like the macho man he is, he finally is brave enough to go into the bathroom.
The toilet is fine and intact (but still running… grrr…)
The cabinet that was on the wall beside the toilet indeed did crash. It is in pieces on the floor, along with all it's contents.
So, they did the logical next step.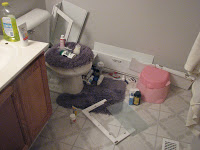 Scott starts to pick up the mess.
Krista runs and gets her camera so she can blog about this now hysterical event.
Discussion: Not sure what to discuss with this. I understand I am obviously a little loo-loo. So…. let's discuss how we are all a little strange! Come on, I want to hear your stories! Oh, and am I the only one that immediately things "BLOG WORTHY" when interesting or funny things happen???