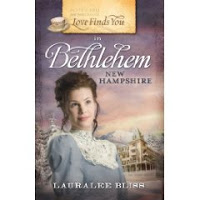 As a few of you know, I'm writing a book that is geared towards the "Love Finds You" series, and I am SO SO SO excited about it! I'm over half-way finished, and the story's shaping up quite nicely. Now, if I can just sell it when I'm through:-)
On top of my research for the town, I've also been reading other books from Summerside Press to get a feel for their expectations and what they are publishing, something I think is important for ALL writer's to do in their genre/publisher of choice. I believe it's called Market Research.
To that end, I'm privileged to bring you today my review of "Love Finds You in Bethlehem, New Hampshire" by Lauralee Bless.
Amazon Summary
Sara McGee is not what Tom Haskins expected. The artist knew he was taking a risk when he reluctantly agreed to advertise for a mail-order bride but Tom assumed the woman who answered his ad would be more refined than the penniless and uneducated Sara McGee. Tom takes Sara under his wing, but he knows he can never marry her especially now that he's suddenly receiving attention from accomplished pianist Annabelle Loving. While Tom's sister is bent on transforming Sara into a lady, Sara knows she can never compete with Annabelle. Nonetheless, she finds herself drawn to the lovely mountain town of Bethlehem and to the artist who brought her here. But without a marriage to Tom, Sara knows she cannot stay. As preparations for Christmas transform the tiny town, will Tom come to understand the message of the first Bethlehem, that the most precious gifts don't always come as they're expected?
Krista's Thoughts
This was a sweet romance that made me smile and sigh at the end–a must have for EVERY book I read. It did seem a bit slow in a few spots, but part of that is the hero is an artist and I have no, and I repeat, NO artistic ability within me. The best I do is a stick figure. So while he was talking about his art… I skimmed. But that's just my weird, non-artistic self. LOL.
LOVED the theme of the book, that it's what's INSIDE that counts, that we need to look beyond the pretty packaging and see people for who they really are. Something we all need to learn!
Final Verdict: A delightful choice to read as you are cuddled under a blanket in a rocking chair by the fire with a cup of hot cocoa (or tea, whatever your pleasure.)
Oh, and let me also just add this: Anyone who would NOT help a lost child out in the cold should be flogged, beaten and shipped to Antarctica without a coat. And that's all I'll say about that:-)
Discussion: I'm in the mood for romance today. (no jesting from the peanut gallery, kay?) So! What's your FAVORITE romance novel of all time? I'll put no rules on this… although note that I am an inspiry romance snob so I will have no idea what you're talking about if you list a secular romance unless it's a classic… *grin*.
Oh, and Romeo and Juliet does NOT count. TOTALLY not a romance. Love story that irritates me is more like it! Seriously? They kill each other in the end? UGH!
Oh, sorry… I'd said no rules. Fine you can use R&J if you want… but I reserve the right to poke fun at you for it:-)