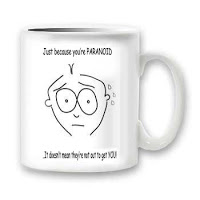 Okay, fine, maybe I AM paranoid a little.
Sometimes I think being a writer is a curse. (wow, that reeked of paranoia right there!) Seriously… I'm always trying to make things worse for my character, trying to douse them with conflict, so naturally this has spilled into my everyday living.
Before I do anything, my mind races with all the possibilities that could result. AFTER I do something, or say something, I imagine all sorts of reactions that could occur.
This wouldn't be bad, and in fact, would be good story fodder, except that it breads fear. And God desires us to trust in him and not fear, to let his Perfect Love cast out our fear.
Here's an example of this paranoia, taken from LOL: Mission Jack (my completed novel I'm pitching at ACFW), which features Jenny, ultra-paranoid accountant who seriously needs a dozen chill pills. *note* This is a chat-room scene… they are not in person but are talking on the Internet. the *jenny ________ stuff are chat versions of actions…
*****
JennyG: No… it's been a pretty rough week and I didn't get a chance to check my e-mail.
JP: I'm sorry. I didn't know your week had been bad. You want to talk about it?
JennyG: No… I'm a little emotional at the moment… and am afraid if I try I'll cry, and my tears would probably short out the laptop, which would then catch on fire, which would make me throw it because it is on my lap you know, and then it would catch the house on fire and Paige might not get out in time…
JP: WOW. Okay, never mind.

*JP thinks Jenny needs a hug

*Jenny blushes at the thought

*JP puts his arms around Jenny and gives her a big gentle cyber hug
*****
So… obviously Jenny is a little over the top, and she is joking… but only a little.
But do you ever do the same thing?
Example: Many times I'll comment on a blog, and totally worry over whether or not it's an appropriate comment. Usually I try to inject a teensy bit of humor, but what if they don't realize my tongue in cheek personality? Or sometimes if it's a serious post, should I just keep my opinion to myself? Will someone read it and think, "geez, there's an idiot" and what if that someone is an agent and editor? Will they roll their eyes and put me on a "do not talk to EVER" list?
The same goes with my tweets/facebook status. I try to keep them fun and general, but what if someone thinks they are stupid? What if I respond to someones tweet and they think I'm totally whacked out?
And don't even get me started on all the agent/editor etiquette. I fancy myself a fairly professional (notice the word fairly) person and don't think I'd cross any lines… but I do like to be funny sometimes. I do try to stand out from the crowd a little, but what if I break a rule??? What if they don't like me????
This isn't limited to writer's world. It's the same at church, book club, writer's group etc.
I think I'm just a walking "what-if" factory of paranoia.
Am I alone?
How do YOU get over the whole slippery-slope, worst-case-scenario, paralyzing spiral of negative thoughts?