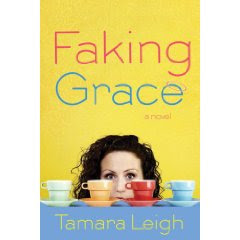 It's book review day!
I've never been in a fan club, nor have I created one. But Tamara Leigh makes me borderline. (She is probably afraid right now because I'm sounding ALMOST stalkerish…)
Last December I had the PRIVILEGE of reading my first Tamara Leigh book, Faking Grace. I laughed until I cried, then I snorted a few times, then laughed again.
I seriously thought about having a T-shirt made that said, "I LOVE FAKING GRACE" but, uh, well, for obvious reasons I thought that might hinder my Christian witness just a tad.
Okay, okay, let me back up a bit.
Here is the "official" Amazon description of Faking Grace:
Maizy Grace Stewart dreams of a career as an investigative journalist, but her last job ended in disaster when her compassion cost her employer a juicy headline. A part-time gig at a Nashville newspaper might be her big break.
A second job at Steeple Side Christian Resources could help pay the bills, but Steeple Side only hires committed Christians. Maizy is sure she can fake it with her Five-Step Program to Authentic Christian Faith–a plan of action that includes changing her first name to Grace, buying Jesus-themed accessories, and learning "Christian Speak." If only Jack Prentiss, Steeple Side's managing editor and two-day-stubbled, blue-jean-wearing British hottie wasn't determined to prove her a fraud.
When Maizy's boss at the newspaper decides that she should investigate–and expose–any skeletons in Steeple Side's closet, she must decide whether to deliver the dirt and secure her career or lean on her newfound faith, change the direction of her life, and pray that her Steeple Side colleagues–and Jack–will show her grace.
****
Krista here again. Is that not just the funniest recipe for a romance you've ever heard of in your life?
I told Tammy not long ago that I want to write like her when I grow up. We were at our local writer's group at the time, and I'm PRETTY sure she scooted her chair away from me an inch.
Below is my "official" Amazon review, although I think you can already get by now that I LOVED IT!
"LOVED this book! I, as a rule, don't read a whole bunch of chick lit. I am more of a 3rd person romantic comedy kinda girl. But wow, Faking Grace hooked me on Tamara Leigh's books for life! It was funny (I seriously laughed till I cried), inspirational (Yours in Christ…*grin*), and most important to my uber sappy heart, had a good dose of clean romance.
A MUST read. These days we all need a healthy dose of humor and entertainment, and wow does this one deliver!"
Tamara also has a NEW book coming out in September, Leaving Carolina, in which I am pretty sure I will be the first person in line at the bookstore to purchase it:-)