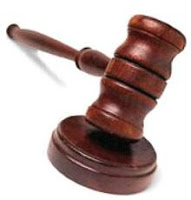 Judge Mommy is residing.
Okay, not quite so formal.
But with the winds of change blowing yet again in our household, I have a deep craving even more than normal for ORDER in my household.
I managed a payroll department for a national corporation since 2007. I should be able to manage my household now… right??
Not that I haven't been these past few months. I just feel that I have been running on literally a whim and a prayer, on a day-to-day basis. MUCH of this was because of Annabelle's in-and-out of the hospital status, as well as ME having just come off a year of operating on a 24-hour window basis in order to keep my sanity.
But my family NEEDS more order and at least a vague semblance of stability.
*I* need it if I'm going to retain my sanity.
So here are a few things that I, personally, am going to implement this week to try and help.
Throw away the schedule. I've been trying to stick to a schedule during the day, and to be honest, it just doesn't work for me. I fail daily, then I feel like a failure daily, then I have an incredible urge to drown myself in chocolate…daily, which is NOT good for my diet. Inevitably, something occurs that gets me off schedule even when I try my best to tame the beast that is my day. So, instead of having an hour-by-hour daily schedule, I am going to do bigger chunks.
Mornings will be for picking up/cleaning/projects.
Afternoons will be for contract work/writing/blogging.
Obviously, Annabelle will still have HER schedule we will abide by. And clinic days will mess up the above, but this is going to be my goal. MUCH more doable that "8 to 9, clean this…"
Tame the Blog. Blogging really doesn't take a lot of time for me, and it's fun. HOWEVER, I need to get back into a routine for it as well, so I'm going back to my goal of Monday/Wednesday/Friday blogging. Obviously, this will change if something happens with Annabelle and we need prayer more urgently. The content will remain much the same: My thoughts on life as a regular momma, as a heart momma, as a wife, and as a follower of Jesus, as well as Annabelle updates! My prayer for my blog (and my books for that matter) is the same as well: that through my writing, you'll see Jesus and be encouraged.
Prioritizing vs Procrastinating. I'm a huge believer in prioritizing. But I am woman enough to admit that many times, the word "prioritizing" easily becomes a smoke-screen for "procrastinating." I can't tell you how many times the words, "But that isn't due for another two weeks!" has come out of my mouth, even to my kids regarding homework. I know, I know, a HORRIBLE example to them. But at least I admit my faults, right?
So I am going to make a concerted effort to STOP PROCRASTINATING and just get things done instead of waiting until it is "due."
I'll admit, out of the three, this will be the hardest for me. I might even, uh, prioritize, the other two!
Discussion: Anything you've implemented at your house lately to help keep the peace/order/sanity?? I'll take any tips/suggestions as well!
**Annabelle Update**
She's doing great! Ate REALLY good for me on Sunday, which made me SO incredibly happy. Hopefully no clinic visit this week… although she does have her first eye doctor appointment today! I'm praying they are just fine, but "lazy" eye runs in our family, and sometimes when she focuses, I can see one eye isn't as straight as the other. Praying this isn't what I think it is!! Since I have it, the doctor said my kiddos have a 50% chance of having it as well.