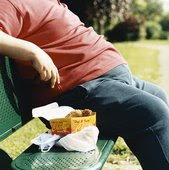 But God is strong!
Seriously, my diet has been almost flushed. I bring a whole new meaning to "Spirit is willing, but body is weak."
I was doing REALLY good too. As of Sunday I was down a pound, and feeling really good about losing one more before today. But then… I promised my girls I'd make Brownies.
And I followed through.
Have I told you all how much I LOVE brownies?
And then this week, I've eaten crazy. Gone out to eat so many times for lunch your jaw would drop if I confessed details. I did do the stairs at least once EVERY day this week, but not enough to combat the food intake.
My problems?
-Lack of time- It takes effort to lose weight. And time. You have to plan your meals, be intentional when you eat. My eating periods are anything but. They are my sister calling me up and asking to go for Pizza on Tuesday. They are me eying the lunch I had on Wednesday and saying the heck with it and running to Sonic. And they are yesterday, going to O'Charley's for a co-worker's birthday lunch and having the most YUMMY FRIED chicken tenders you've ever tasted.
-Lack of healthy choices- I have a confession. I HATE VEGETABLES. And I can't make myself choke them down. I'll eat green beans (the kind out of the can cooked with butter… meaning they have NO healthy value left in them…), and sometimes I choke down a pea or two, but really, it's bad. I don't even like salads. I blame this partially on my mother, because she has a severe aversion to ANYTHING green that she's passed down to me. What do you do if putting a vegetable in your mouth makes you gag like a five year old? SERIOUSLY? I'd love to have a remedy for this. Maybe hypnosis…
-Lack of energy- Probably because of my point above, but I come home dead tired and the LAST thing I want to do is exercise, while the FIRST thing I want to do is snuggle up with my babies, then get a little writing time in. YES, I could take my babies on walks… but that's difficult with three of them, especially this next week since it's forecast to rain EVERY day.
This sounds like a bunch of lame excuses, I know.
But I think the first step in overcoming said excuses is admitting they exist, then taking solid steps to overcome.
Any suggestions? Anyone? I'm floundering here people! (If you must know… I have not stepped on the scale, but I'm probably up a pound.)