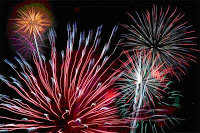 Last Monday we talked about what to do while we wait. Then on Friday we talked about the stages of coping with failure.
I don't know about you, but I need something HAPPY to write about now!
So let's talk about what to do when we get GOOD news! Because, as many downs and frustrations that are in the writing life, there are a ton of ups that encourage us too! To name a few:
Good critiques that make you feel you're actually GETTING this writing thing!
An encouraging word at the exact moment you need it
Meeting virtual writing friends in person
Contest finals
Contest wins
Requests for partials/fulls from agents
Requests for partials/fulls from editors
Getting an agent
Getting a contract (and all the little steps in between!)
Feeling your book in your hand for the first time
A positive review
A letter from a writer, telling how you impacted their life
I know there are a ton more… but I gotta say. That last one would be culmination of them all, and would make ALL the failures thus far worth it!
So, what do you do to cope with… I mean, celebrate.. the wins? Here are a few Krista ideas (with hopefulness that I'll actually get to use them someday!!)
Eat chocolate (hey, you can celebrate with it too!)
Go out to eat at a place you rarely go
Squeal really really loud until your neighbors are wondering what is going on
Post your good news on facebook/twitter/blog (plus, at least for me, it's FUN to celebrate others wins with them! It lets me know there IS hope!)
Do a few backflips (or not…)
Eat some more chocolate (for me… with ooey gooey caramel in them!)
Pray (another thing you do during failure and victory)
Splurge on something writing related (new pencil.. pen… pad of paper… laptop… depends on which victory!)
Splurge on something non-writing related (new socks… new clothes… new car… HA HA HA! In our dreams on that last one!)
Spend three hours on the phone calling everyone you know and telling them the awesome news (just be forewarned, they probably won't be quite as excited about it as you!)
Toast with a nice glass of sparkling grape juice… (non-alcoholic house here *grin*)
…Write another book… 🙂
Discussion: What are some things YOU do to celebrate your wins?