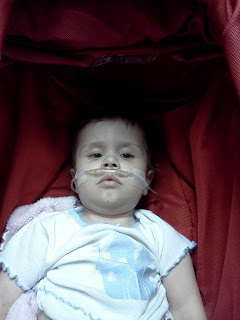 Waiting for a bed in the ER….
We brought Annabelle to the ER last night.
I'd put her to bed, and she seemed fine. An hour later, I went in to start her night feed and the first thing I noticed was that her heart rate on her monitor was 155. It's usually <110 when she's laying down, <100 when sleeping.
Second thing I noticed was that she was awake. And gagging almost constantly.
Then I noticed her bed was covered in poop.
She proceeded to have super watery stools 4 times in a row over the next half hour, completely soaking her bed each time, and her HR climbed to the 170's.
And even though her SAT's were staying great (on oxygen) she still had this horrific gray color to her skin. Mommy NO LIKES it when her baby is blue OR gray….
Thus our trip to the ER at 11-ish last night.
The thought is that it's probably just a bug. Her labs weren't swell last night regarding kidney function stuff… which shows that she's pretty dehydrated (high heart rate is a result of that as well) which makes sense.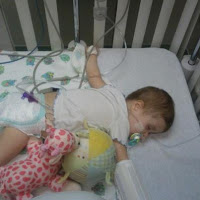 Have no clue the plan for today. She just had another big, yucky poop, which is actually good 'cause they could get stool samples. But she also started gagging again… and she's just having pedialite, no food, so that isn't a fabulous sign.
Still in the ER this morning. No rooms available, but they anticipated having one come available earlier than later this morning, so fingers crossed!
They also just ordered more IV fluids. She only had one wet diaper last night and that was a little concerning. They're also holding quite a few meds this morning that affect kidney function negatively. Mommy is a bit nervous about that one, as one of them is her anti-rejection med, but I defer to our super smart doctors and trust they know what is best.
Please pray that:
Annabelle pees well
Stools settle down, as well as the gagging
That we can start her feeds soon and that she TOLERATES them!
That we can get a room soon… but even more important, that we're cleared to go home again! I have sneaky feeling they'll want to keep her tonight at a minimum and make sure she's tolerating feeds though. This is not per a doctor, just my sneaky suspicion.
Thanks so much for your prayers! We REALLY appreciate them!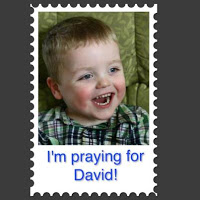 While you're praying, could you please keep our heart friend, David, in your prayers?? He's having a super hard time recovering from surgery. His story is pretty spectacular… he's defied a whole lot of odds that the doctors never expected him too. But now he has 2 Staph infections on top of mold and this little man just need a whole ton of prayer.
You can keep updated on him at his CaringBridge… He's at a hospital in Dallas…
*sigh* There are so many other heart babies I could list that need prayer…
OH! We also met a young teenage girl in the ER waiting room for immune suppressed patients… she just found out 2 weeks ago that she has leukemia, and she was running a fever and feeling pretty crummy, which could be pretty dangerous for someone who's had their immune system wiped out. Please keep her in your prayers too! I didn't get her name though….