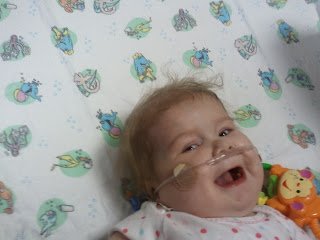 We are going… HOME! Yeah!
I am so very excited to announce that we are headed HOME today!!!
Labs were better. She is still gagging and having bloody stool, but not quite as bad as yesterday. We come back for clinic visit on Monday anyway, so I think the feeling is that it's a pretty short period before they do labs again, so they were okay with us leaving.
Hubby has to work today 🙁 (and he has had to call in a LOT this last month due to Annabelle, and given my unemployed state, we figured it wasn't wise to do so again, both for financial reasons and job protection ones! It's only part time… but at least it's something!)
So, my Momma is gonna come and take Annabelle and I home! I am SO SO SO SO excited!!!!
Annabelle had fun visitors last night! Matt Hammitt and the whole Sanctus Real band came to visit! The nurses were even sweet and let us ignore visitor hours this one time! It was great seeing Matt again and meeting the band!
And let me tell you, Larry the Cucumber officially has some competition in Annabelle's crush department. It was SO funny. Matt brought the band members in one at a time, and each time she would be shy and just look at them. But the moment they would leave, she looked at me with this HUGE grin. I tell ya, I'm gonna have a time with this little girl when she gets older!
Talked with Matt briefly about his new Whole Hearts Foundation… he has some really exciting stuff around the corner! They are still in the beginning stages, but it will be a great avenue to help CHD families! Great stuff!
Well, gotta go finish getting her room packed up!!! YEAHHH!!!!
In the mean time… here is Annabelle's *slightly fuzzy* going home video. She smiled RIGHT before I started filming (as seen above!) then was stingy and wouldn't do it anymore!!