KRISTA'S HOLIDAY
BOOK GIVING GUIDE: 2009
Week 5: Contemporary Romance
Sandra Bricker's Love Finds You in Holiday Florida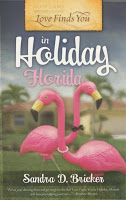 I was SO very excited when Sandie agreed to let me interview her! And after I read her latest book, my level of enthusiasm grew by bounds. I'll be honest, I've read a few of the Love Finds You series, and Sandra's ranks up there as one of the best (the other ones I've read are good too, mind you… this one just tickled my fancy on a greater level!) So, I'll hush now and introduce you to Sandie!
Krista: Welcome Sandie!! You don't know this, but the first time I saw your name online, I spent the next 30 minutes stomping around my house, muttering under my breath. Why, you ask? Because I'd just come up with the PERFECT "tag" line to put on my website/in my signature, and not even an hour later while stumbling around the Internet, I came to your website and saw my own work of genius there in black and white. "Laugh-Out-Loud Romance." (although, now I see it reads, "Laugh-Out-Loud Inspirational Fiction" so I totally might steal it back! J/K!) Anyway, I toyed with the idea of asking you to come up with another wonderful tag line that I could use since you stole… er… came up with the other one first, but decided that would be horribly dumb of me. So, in the spirit of fun, give me the silliest/tackiest/stupidest tag line you can think of for a romance/humor writer.
Sandie: How about this: Krista Phillips, Goofball for Jesus.
Krista: I love it! Much better than, "Pee Your Pants Laughing Romance" that I was kicking around…
On a much, um, better note, LFYI Holiday, Florida is your second "Love Finds You" novel, and reading it, I gotta say you did an AWESOME job. Is writing for a targeted series like "Love Finds You" from Summerside different than, say, the book that's coming out in March from Abingdon, The Big 5-Oh! ?
Sandie: Thank you so much, Krista! I'm so happy that you enjoyed the book.
Writing Love Finds You books is a little more challenging because you don't want to disappoint your readers. You never want them to close the book and say, "That's not my town!" so there's a lot of research involved to get to know the nuances of the town you're writing about. For The Big 5-OH!, I was allowed to choose any setting I wanted. So I chose my favorite run-away spot, Sanibel Island. I already knew the place so well that it was easy to share my favorite spots with my characters.
Krista: I can totally see that! Writing someplace you know well WOULD be a bit easier:-) Speaking of the Holiday, Florida book (that, btw, just released yesterday! Congrats!!) tell us a wee bit about it? Wet our appetite, if you will.
Sandie: Bostonian Cassie Constantine is only in Florida long enough to use her Christmas break to get the vacation house that she's always despised ready for the real estate market. But her widow status is like a target on her back, and the elderly matchmakers around town manage to sidetrack her mission at every turn. Holiday is a land mine of golf tournaments, ballroom dancing competitions, shuffleboard and day trips. But the biggest obstacle of all? Nope, not Sophie the crazy Collie. It's Richard Dillon, the stuffed shirt she's paired with on the dance floor. He makes her heartbeat tap faster than the rhythm of The Quickstep.
Krista: I gotta say… you didn't mention it, but I REALLY like the crossword puzzle!
Okay… it's time for…
KRISTA'S PLOT POP BRAINSTORMING QUIZ
All my interviewee's are subjected to a quiz, where you take what I give you and create a story-idea and share with us in elevator pitch form. Given the theme of the love finds you series, give us a story real quick about, oh, say, Celery, California. But, no, that would be too easy. On top of this, include these few items:
Dunkin Donuts
Leopard skinned pants
And um, maybe… OH, Tim McGraw… Yeah. GO!
Sandie: Ginny McGinney has been a vegetarian for more than a decade. So how ironic is it that, on the very day that she decides to give in to her yearning for a Big Mac, she finds herself standing under the Golden Arches in a town called Celery, California?! The McGuilt is overwhelming, and she tosses down her burger and scurries out into the street. At the end of the block, she spots a Dunkin Donuts and, oblivious to oncoming traffic, she stumbles toward it. She might have been mowed down by the F-150 barreling through the intersection if not for her neon pink leopard-skinned pants!
"Are you all right?!" the driver exclaims, tipping his cowboy hat. "I almost didn't see you."
And then Tim MacGraw REALLY SEES Ginny McGinney, and all thoughts of Faith Hill disintegrate as he swaggers his way toward her.
"Let's get to know each other better over a burger," he suggests. And Ginny McGinney thanks God, Celery, California, and cow farmers everywhere for bringing her together with the cowboy of her dreams.
Krista: Poor Faith! But great improvising!!!
Twitter-worthy question: Flip-flops, crocks, or spiked heels?
Sandie: Tennies.
Krista: Way to be a rebel and choose none of the above! WELL DONE!
Okay, last question…
Gift Giving Guide:
Who should I buy this book for?
Sandie: Anyone who needs a good laugh! I believe in the scripture that says a merry heart is like medicine. It truly has been for me in my life. And I think combining romance and laughter is a no-brainer. It's just good for the soul.
Krista: Thanks Sandie! It's been a blast interviewing you, AND reading your book! You can purchase her books at your local book store, or online at amazon.com or CBD.com.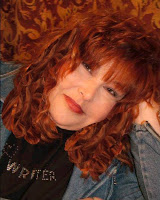 SANDRA D. BRICKER is the author of eleven novels and co-author of two devotionals. The Southern California native was an entertainment publicist for fifteen years and now works as an editor in Tampa, Florida, where she lives with Sophie, her collie mix. Read more at www.SandraDBricker.com
Sandie has graciously agreed to give away a copy of Love Finds You in Holiday, Florida to one lucky commenter! You have until 10:00 p.m. CST tomorrow (Thursday) to post a comment. Good Luck!!!
Discussion: In keeping with the whole holiday and music theme (the music came in with Tim and Faith ya know) what's your FAVORITE Christmas song??