KRISTA'S HOLIDAY
BOOK GIVING GUIDE: 2009
Week 5: Young Adult Fiction
Jenny B Jones' "I'm So Sure"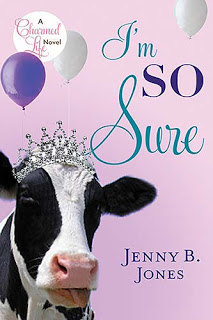 It's YA Wednesday! I'm honored to interview UBER snazzy Jenny B Jones on my blog today, AND give you all a chance to win a copy of her new book, "I'm So Sure." So, without further adieu… Here's Jenny!!!
Krista: I gotta say, I love your name. As a mother of a "middle grader" I am deeply familiar with "Junie B Jones" and when I showed your book to my nine-year-old, she said, "Jenny B Jones? Is that like, Junie B too?" So my question comes from her. Was your Jenny B Jones name inspired at all by little Junie?
Jenny: No. Sure wasn't. You'd be surprised how many emails I get from people wanting Junie B. Jones books. They are awesome books, but I always have to tell them the author of those books is named Barbara. Not Jenny. Barbara.
Krista: LOL, and I thought for SURE it was a cleverly picked penname!
Okay, I just have to say, I LOVE the cow on the front of "I'm So Sure," but I love the pig on the cover of "So Not Happening" too… both great names btw. So my very very important question: What is your FAVORITE farm animal and why? Oh, and will your next book feature a, um… chicken or something? Or maybe a sheep…
Jenny: Oh, that next book is giving us fits. The book is centered around a circus that rolls into town, and a collie is pivotal to the plot. But a collie on the cover doesn't exactly scream, "Cool YA book," so the great folks at Thomas Nelson are working hard on getting an awesome cover for the final A Charmed Life book called So Over My Head.
My favorite farm animal would have to be a farm dog. Those things are so stinkin' smart. And they work for their kibbles. My pet does nothing to earn its keep. Just sheds and barfs.
Krista: Speaking of "I'm So Sure," can you tell me a little about this AWESOME book?
Jenny: Things were going fine for Bella in Truman, Oklahoma. Sure, she misses Manhattan, designer clothing, and her dad. But she was finally making new friends at Truman High and getting some good stories on the school newspaper. Then her stepdad, a semi-pro wrestler, signs the entire family up for a reality TV show. And now Bella's quiet life is splashed across weekly tabloids and entertainment TV.
As if having a camera crew following her around isn't bad enough, Bella soon discovers a conspiracy against the Truman High prom queen candidates. And the closer she gets to the answer, the more danger she finds herself in.
As her relationship with cute and frustrating editor Luke teeters between friendship and something much more, Bella's ex-boyfriend reappears and vies for Bella's attention. Is he truly reformed? Suddenly nothing is quite what it seems. Could denying allegations of love triangle, working to solve the prom queen mystery, and trying to keep her cool while working a shift at the maxi-pad plant get our Bella Kirkwood down? I'm so sure!
But what comes next has Bella once again screaming: I'M. SO. SURE.
Krista: I'm crying laughing just reading your summary. Anyone who can write about someone working at a maxi-pad plant has my highest admiration!
Okay… It's TIME!
Krista's Pop Plot Brainstorming Quiz
All my interviewee's are subjected to a quiz. I give you a few nuggets and YOU have to plot a story in elevator (or back cover copy) pitch form. So, here you go!
Title: "I'm so NOT sure"
Include:
A golf ball
A stuffed Dalmatian puppy
Lipstick
An Egyptian Pharaoh
GO!
Jenny: Omigosh. Where to begin…
Once upon a time (this is already so original…) there was a teenage girl named Moxie. Moxie Sweetser was not just any girl. She was the daughter of rock royalty. Her mother was lead singer for the band Stuffed Dalmatian Puppy and her father was the famous guitar player Sven Sweetser of Egyptian Pharoah. When her parents disappear, all Moxie knows is tied up in a list of clues stuffed in a hollowed out golf ball that comes crashing through her window late one night. So what's a girl to do? Moxie grabs her phone, the clues, and her favorite lipstick and sets out on a journey to find out who has kidnapped her parents, why the Jonas Brothers have bugged her bedroom, and why someone will stop at nothing to see that Moxie fails in her mission to bring her parents home. Because sometimes when lives are at stake…all you can do is rock on.
Krista: Oh, very nice! Adding in the Jonas Brothers, NICE touch!
Next question: Finish this potential twitter tweet:
I just finished eating the most nasty food… it was _____
Jenny: Peas. Those things are gross. I can't eat anything that squishes and oozes in your mouth upon contact with the teeth.
Krista: I'm totally with you on that! Okay, I feel like there are fifteen billion other questions I could ask you, but for the sake of time, I'll skip to my last question:
GIFT GIVING GUIDE: Who should I buy your book for?
Jenny: A teen or almost-teen who likes humor, a little romance, and is in to the cool things of Gossip Girls and pop culture, but doesn't need the uncool things that often tag along. I think you get the best of both worlds with the series—the fantasy of following Bella in her once a month visit to Manhattan to see her plastic surgeon father and the down home family values of her life in Truman, Oklahoma.
You could also just give this book to anyone and everyone on your Christmas list. Or anyone you know. Or meet. Or pass by on the street. I find this book appropriate for anyone who: breathes, eats, sleeps, and wears socks.
Krista: Thanks again, Jenny! It's been a hoot!
You can purchase "I'm So Sure" at your local bookstore, or online at amazon.com or CBD.com.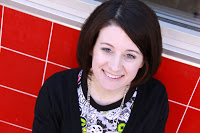 Jenny B. Jones writes Christian Fiction with equal parts wit, sass, and untamed hilarity. When she's not writing, she's living it up as a high school teacher in Arkansas.
Jenny is giving away a copy of her book, "I'm SO Sure" to one lucky commenter on my blog! You have until 10:00 p.m. tomorrow (12/10) to leave your comment! GOOD LUCK!!!
Discussion: Okay… what is YOUR favorite farm animal??? Jenny and I would LOVE to know! Maybe it will give her some ideas for the cover of the next book!