KRISTA'S HOLIDAY
BOOK GIVING GUIDE: 2009
Week 2: Category Historical Romance
Erica Vetsch's The Bartered Bride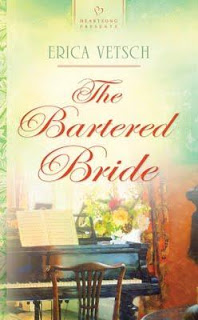 I'm SO excited to introduce Erica Vetsch to you, fellow blogger and author extraordinaire! In exchange for a free copy of her book, I agreed to give her this glowing reviewing… (LOOK! I'm FTC compliant! WOOHOO!)
Now, on to the interview.
Erica, so glad you could join us here at Krista's Reflections (as kooky as they are sometimes.) Before we get into the book stuff, I have a question I'm dying to ask.
As a fellow twitterer, I'm sure you're saddened as well by the lack of information (besides Sherrinda's vibrating bum…) we receive from our fellow twitterers. I mean, what happened to knowing "what you are doing?" We get quotes and links instead of "Using the ole electric toothbrush to polish my pearly whites" or "Playing scrabble with my kids" or "Putting my shoes on" then "now I'm tying them…" In this spirit, I think we'd like to all know something "twitter" worthy about you. Like, say, what you ate for breakfast this morning?
Erica's reply: Had Slimfast for breakfast. Milk chocolate. Got on scale right after. Slimfast Fail! Want refund.
Oh, I feel for you, girl. Once a year I go for a few weeks on a slimfast kick. *sigh* It's about that time of year, unfortunately. (and I stick to the bars… the shakes just don't cut it!)
So, a little bird told me you had a book published. Very interesting. What's it about? (ahhh, elevator pitch memories!)
Erica's reply: A guy (handsome) a girl (pretty) a fortune (staggering) a ship (wrecked), a romance (smoochy!) 🙂 Actually, it's the story of an arranged marriage, and how two people keep wanting God to change everyone else's minds, when it's the hero and heroine who end up changing.
Very nice. You are totally writing my next elevator pitch for me, kay? Thanks!
So, how long did you slave over said book?
Erica's reply: I wrote The Bartered Bride in about five weeks in the summer of 2007. The idea just hit me and WHAM! I was off and running. The editing took about a month more.
Do you see the jealousy dripping from my ears? Hold on while I get a napkin to wipe it off…
Okay, all clear! Now, I like to give my interviewees a pop brainstorming session. I'll give you a topic, and you give me the first book idea in elevator pitch form that pops into your head kay? Good.
I know your book is called "The Bartered Bride" so give me an idea for a book entitled "The Barking Bride." GO!
Erica's reply: A guy's dog bites a female mail carrier, and she goes all Shaggy D.A. on him. He doesn't know whether to rush her to the hospital or the vet. Hilarity ensues as she chases cats and he chases her.
I smell a bestseller!!!
I gotta tell you, we're all so excited that you're published! WOOHOO! Tell us about the moment you got the news!
Erica's reply: A phenomenal moment for me. JoAnn Simmons of Barbour Heartsong Presents announced the contract at the 2008 ACFW Conference at one of the general sessions. Soooo Coooool!
A wonderful moment I'm sure! CONGRATS again!!! Any other books coming out we might be interested in?
Erica's reply:
I've got six books coming out this year:
The Bartered Bride Nov 2009
The Marriage Masquerade Jan 2010
The Engineered Engagement June 2010
Clara and the Cowboy April 2010
Lily and the Lawman August 2010
Maggie and the Maverick Nov 2010
Seriously, I'm blown away. WOW! You are on a roll! Last very important question. Minty Fresh or Cinnamon Gum? Inquiring minds NEED to know!
Erica's reply: Always the mint.
GOOD ANSWER! Me too! Thanks, Erica, for joining us today! You rock big time!
Oh wait! I forgot the most IMPORTANT question.
BOOK GIVING GUIDE: Who should I buy this book for?
Erica's reply: Anyone who has ever been shipwrecked, or forced into marriage, or played the piano, or has gotten flowers delivered to them, or been in love, or had a fight with their mom, or has ever voted, or has ever thought about voting…. 🙂
Well, that covers, um, most people on our lists, me thinks! Thanks again for joining us Erica!
You can purchase a copy of Erica's book at Christianbook.com.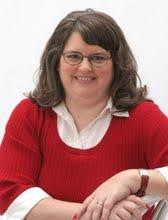 ABOUT THE AUTHOR:
ERICA VETSCH is married to Peter and keeps the company books for the family lumber business. A home-school mom to Heather and James, Erica loves history, romance, and storytelling. Her ideal vacation is taking her family to out-of-the-way history museums and chatting to curators about local history. She has a Bachelor's degree from Calvary Bible College in Secondary Education: Social Studies. You can find her on the web at www.onthewritepath.blogspot.com
Erica has generously offered to give an autographed copy of her book, The Bartered Bride, away to one lucky commenter on this post! You have till 11:59 tomorrow night (November 12th) to leave a comment to be entered into the drawing. Winner to be announced on Friday!