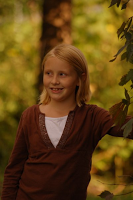 Before I get to my post, let me first say, I know you all want to know who won Kaye's awesome book, Ransome's Honor!
Drum roll please….
And the winner is….. Carla Gade!!
Congrats! You'll be getting an e-mail from me this morning!
Next, I'd like to say a big huge HAPPY BIRTHDAY to my wonderful daughter!! She's totally getting WAY too old and I don't like it one bit! I've told her time and time again that she's not allowed to grow up on me, but she's such a disobedient child and does it anyway! Totally deserves a few extra birthday spankings for it!
So, please please please join me in wishing my beautiful Karalynn Jean Abri Phillips a VERY happy birthday! (and she's a pretty darn good reader, so she'll read your comments too!)
And for her, I'm posting a special addition of Krista's top ten:
Top Ten ways you know your children are getting too old.
They ask for a cell phone for their birthday.
You hear the words, "But mom… all my friends have ____fill in the blank with just about anything ____
They stomp their feet and demand a facebook page and e-mail address.
They roll their eyes and walk off and do the opposite of what you just told them to do. (But Karalynn would NEVER EVER do this! *wink*)
You have very vivid memories of yourself when you were their age, and remember thinking, "Wow, I'm getting older now!"
They get more phone calls from their friends that you do.
Similar, their social calendar is booked and they have to pencil you in.
You turn around and look down at them, but then have to raise your gaze a foot because you under estimated their height.
They don't think boys are quite so ewwww anymore. (My wonderful, wonderful daughter still has them at the ew status, THANK GOD!!!)
They give you advice, and it's actually very, very good!