Yesterday was busy, but I had full plans to do Annabelle's happy 10 month birthday post last night. Alas, I laid down early because I had a killer headache, and woke up at 1 in the morning (then proceeded to be asleep off and on until I finally made myself get up around 7:30)
Yeah, blog post didn't happen!
I am SO SO SO excited about her 10-month birthday though! This will be the LAST month birthday Annabelle spends in the hospital! It's wierd, because we thought the same thing at her 9 month birthday, but this time I'm SURE, last time was "probably."
Annabelle had a GREAT night last night. Besides waking up more at night than usual (we weaned her Adivan to very other day, when she was getting it every night before bed) she did AWESOME.
For the last two weeks, she's been doing this thing where she wakes up in the morning horribly junky. It's all in her upper airway, and she tries her best to cough it up, but it takes her until noonish for it to go away, and has been one of the big reasons we haven't stayed off oxygen.
They consulted Pulmonology on Thursday to get some ideas, and they suggested to 1.) go up on her breathing treatment dose (Pulmicort) and 2.) Start her on a very low dose of Robinul.
The theory behind #1 is to keep her airways uninflammed so she can have the best room to breath.
The theory behind #2 is to help lessen or thicken her spit. She doesn't drool much, but they thought at night, she might be "drooling backward" meaning that instead of the spit coming out of her mouth, she was aspirating it into her upper airway, and when she woke up in the morning, it had all pooled there causing her to be so junky. If we lessen the amount of spit, or thicken it up, she'd be more likely to swallow it normal instead of aspirate.
Well, we officially started the robinul yesterday, and this morning…
NO JUNKYNESS!!
She is breathing clear as a bell! WOOHOO!!!!!
So we are hoping, praying, that this has helped her! Plan is still go go home on oxygen, we aren't really weaning much at all over the weekend (she is on 75ccs… the lowest it goes is 25ccs), but hopefully this will mean we won't have to be on it much longer! Please Jesus let it be so!
Tuesday… Home… HERE WE COME! EEEEEEEEEE!!!!!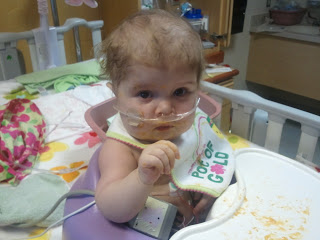 Yum, Yum, Sweet Potatoes!! She had it on her face, in her hair, on her fingers in her eyebrows… everywhere except her mouth! I did get a few little tastes in here… but eating is still very much a work in progress!!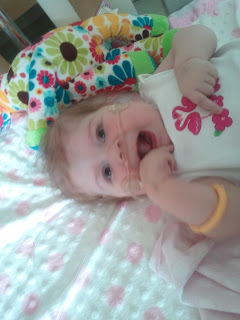 BIG SMILE this morning from happy, non-junky Annabelle! Sorry it is sideways… but it's still cute!