Twelve years ago today, I married the love of my life. It's a little dizzying, thinking about everything that we have been through in 12 years of marriage.
We've moved five times.
Lived in 3 different states.
We've lived through times plenty and times of just scraping by
Celebrated five babies.
Mourned the loss of one of those baby's in a miscarriage.
We were foster parents to three wonderful kiddos who will always hold a piece of my heart.
We endured the pain of the news about Annabelle's heart.
And we fought together with our daughter for her life.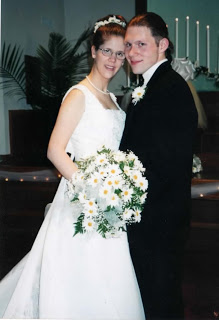 We've had tons of celebrations, and had tons of times were we probably just wanted to strangle each other. I think that is pretty typical of EVERY couple.
But we've endured. We've laughed in spite of our pain. We've loved in spite of our fear.
We're having a low-key day in celebration. I LOVE having kiddos who are starting to get older. They surprised us with "breakfast-in-bed" which was (cold) waffles, syrup, and milk, and homemade cards from each of them. It meant more to us than all the grand breakfast buffet's in the world.
We skipped church this morning. Not our best moment, but church is during Annabelle's feeding time, and since I slept in an hour (till 7 instead of 6!) I couldn't feed her early like I usually do. So, we sang praise and worship music together, read a chapter in the Bible, and the girls did a Karalynn sponsored Sunday School activity. (They made crosses out of popcycle sticks.)
We HOPE to go to dinner tonight withOUT our kids for the first time in a LONG time. It's the first time leaving Annabelle with a family member though, so we are playing this by ear at the moment. If I'm even the slightlest bit worried about Annabelle, we'll stay home and just veg out here.
That said…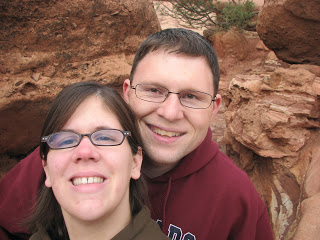 In Denver for our 10th Anniversary!
HAPPY ANNIVERSARY, my sweet, wonderful, handsome, cute, lovable, goofy, sexy, awesome, weight-losing, hardworking, lawn-mowing, trash-taker-care-off-er, great kisser, daddy-of-my-children, HUSBAND, Scott Phillips!
(Note: The above is an inside joke… that I will explain. Scott and I met online in a chat-room, back when chat-rooms were still half-way cool. Like, the You've Got Mail days. Anyway, whenever we would write "snail mail" to each other, we'd end the letter with, Sincerely, your ______ and we'd try to write all the things we want to be to the other. It came like a competition of who could include the longest, silliest letter ending. We continued it occasionally after we got married… but it's been a while. Sorry for the slight PG-13-ish part! HA!)