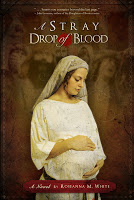 I have the great privilege to introduce to you fab author Roseanna White! I had a great time interviewing her (even if she does now think I'm highly inept… sorry, inside joke!)
So, without further adieu… heeeerrreeeeeessssss ROSEANNA!
Krista: In reading a bit of your blog, I am in slight awe. You had a Roseanna translation from the original Greek! LA! The only think I know about Greek is that I don't care for their food… *grin* So… can you give us a wee bit of taste of your Greek knowledge? Say… a sentence or something then translate??? Come on… I KNOW you can do it!
Roseanna: Oh dear, you're making me flex some rusty hinges here, LOL. I know translational Greek, which means I can parse and read it–so long as I have a lexicon by my side. =) I'm going to have to quote a sentence, I have no clue how to write my own, but here's my absolute favorite passage–same one I used on that blog you read. I'm giving you the Greek, then the English pronunciation, a parsed translation, and then the Roseanna Translation (which in this case will agree with every other translation out there, since the grammar and vocab are super-simple. =)

En arkay en ho logos, kie ho logos en pros ton thay-on, kie thay-oos en ho logos.
In the beginning was the word, and the word was with the god, and god was the word.
In the beginning was the word, and the word was with God, and the word was God.
Translating from Greek is quite a process–you have to identify the meaning of the word and what role it plays in the sentence before you know where to put it in a translation. Though the Bible's fairly easy as Greek goes, in older version of the language, placement means NOTHING. It's all about word endings. And that's enough of the Greek lecture. =)
Krista: WOW! That was fascinating! I was expecting something like "Donde esta el bano" 🙂 Okay on a more serious note… As most of us know, the writing journey is filled with ups and downs, as is life itself. This month on my blog, I'm determined to focus on, and praise God for, all the UP times, the victories if you will. So, tell us about the "ups" in your writing journey. What's one thing that God did that totally blew your socks off?
Roseanna: I'd have to say the reception of this edition of A Stray Drop of Blood. It released in hardback in 2005 and promptly fizzled into nothingness, LOL. I knew a lot more this time around, and after doing a total rewrite, I felt confident in the story and writing . . . but also totally fearful about how people would view it. I've been blessed up and down and sideways by the reviews and reader response I've gotten.
Krista: That sounds amazing!!! How fun and awe-inspiring it must be! Oh my goodness, I am SO excited about your new novel, A Stray Drop of Blood. Can you tell us a little about it?? Genre… what it's about… how much we will love it and how it will make a great gift for every person on our birthday shopping list this year??
Roseanna: Oh, it's just the best book ever for birthdays, Christmas, Mother's Day, Memorial Day, Fourth of July . . . LOL. My target audience is women, but the men who have read it have loved it too, so you better add Father's Day to that list. 😉
It's Biblical Fiction, set in the years surrounding Jesus' ministry. The pivotal scene is the crucifixion, but most of my characters are fictional. The story follows the life of Abigail, a Hebrew slave in a Roman house in Jerusalem. A snippet from the back cover blurb is "Born free, made a slave, married out of her bonds, Abigail never knows freedom until she feels the fire of a stray drop of blood from a Jewish carpenter. Disowned by Israel, despised by Rome, desired by all, she never knows love until she receives the smile of a stoic Roman noble."
Krista: Oh, you forgot Earth Day and Administrative Professionals day and … okay I'll shut up now. Seriously the book sounds amazing Roseanna!
*Drumroll Please*
It's time for… you guessed it!
Krista's POP PLOT BRAINSTORMING Quiz
Rules: I give you a few items/ideas/points and you, on the fly, think up a plot in elevator pitch format that includes all those things. It'll be fun, I promise! Ready?!?
-Monopoly Money
-Eggs Benedict
-Fingernail clippings
-Fake Reindeer antlers (you know like the put on dogs at Christmas time?)
-and to make this loads of fun, let's put this in the Contemporary Romance Genre (I was gonna make it hard and say Historical… but had mercy on you given the Monopoly $!)
Roseanna: (You are SO CRUEL!)
Melrose has always dreamed of opening her own restaurant, specializing in the most neglected meal of the day: breakfast. But when opening day leads to fingernail clippings in the eggs benedict and her dotty aunt–jingling all the way in fake reindeer antlers–trying to pay in Monopoly Money, Melrose tosses up her hands and throws herself on the mercy of her nerdy-cute neighbor, Sawyer. He can help her escape the mess she's made of her life, right?
Krista: LOVE IT! I'd be your first book purchaser! Okay, twitter-worthy question: If you had to die your hair one of the following colors, which would you pick? Pink, Neon Green, or Purple. None of the above is NOT an option!
Roseanna: Purple!
Krista: Me too.. Me too!
Well, that's all the time we have for today folks, but Roseanna has agreed to giveaway a copy of her rockin' awesome book, A Stray Drop of Blood, to one lucky commenter. Because of my new blogging schedule, you have EXTRA time to enter… until Thursday, 4/8, at 5:00 P.M. I'll announce the winner on Friday the 9th.
Oh, and be sure to visit Roseanna at http://www.roseannamwhite.com/ or http://www.roseannamwhite.blogspot.com/. And check out her book at amazon.com.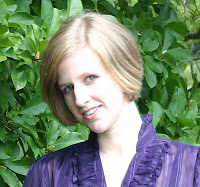 Roseanna M. White is a wife, mommy, writer, reviewer, and lover of all things literature-related. She is the author of A STRAY DROP OF BLOOD (WhiteFire Publishing, 2009), a member of ACFW, HisWriters, and HEWN Marketing, and the senior reviewer for the Christian Review of Books. She makes her home in Western Maryland with her husband, two small children, and the colony of dust-bunnies under her couch.
Discussion: Fun question today. How many languages do you know? Oh… and for the brave, give me a fun sentence from something other than English. I'll stick with my "Donde Esta el Bano" one:-)