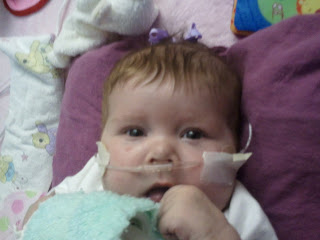 I am SO SO SO SO SO excited to report that this morning, New Years Eve, marks the second morning that Annabelle has been…
FEVER FREE!
Starting on Christmas Eve, she has run an almost constant fever (except for the brief times when Motrin was given… then it stayed down for about 6 hours… then went right back up) of 101 – 103.
It always spiked really high in the wee morning hours around 2 – 4 a.m.
Well, yesterday at about 5 a.m. I heard some commotion and groaned. Fever again. I sat up on my couch/bed and asked the nurse, and she said, "Oh, no, she's fine. We're just trying to draw some blood and she's mad."
WOOHOO! While I felt bad for my baby being pricked, I was OVERJOYED. This morning, I got up about 4 a.m. when she fussed, and I looked at her heart rate. It was 129!!! I always know when Annabelle has a fever before even touching her. Her heart rate is in the 160's to 170's. Even yesterday it was in the 140's – 150's when she was teetering close to a fever (99.5 – 100.4.) Sure enough… when the nurse came in, her temps had been running around 98.1! EEEEEE!
This means I can actually put CLOTHES on my baby now without fearing that it will run up her temp! I did put a button up onsie on her yesterday… but left it unbuttoned most of the day just to be on the safe side!
God is so VERY VERY good! They still aren't sure what helped. They did stop a few of her medicines, but they are not very sure that they were causing it. But whatever it is… they are gone. We're praying the fevers STAY gone too!
Yesterday in doctor's rounds, we discussed doing her cath. They said they wanted to have a few fever free days before her heart cath. Soonest they could get her in was Tuesday last case (never a good spot to be in… most likely to be bumped!) Which means we would be here until at least the end of next week. NOT fun!
I noted my disappointment at the length of time, but smiled and said I would get over it.
I went back in Annabelle's room, and a few minutes later, the door opened and a doctor came in. I saw all the doctor's still standing outside our room, which is rare. They had been moving on when I came back in side.
Doctor says, "So, we were talking and changed our minds. How about we do the heart cath tomorrow afternoon if she stays fever free?"
EEEEE! Now THAT made this momma HAPPY! Not that I'm giddy about my daughter going through that particular procedure, but it's the last step before going HOME, so I am TOTALLY ready for it!
So, right now, we are sitting in our room, ready for Cath lab. No fever. No food since midnight. Labs drawn. However, we are 3rd case… and it's New Year's Eve. We have 2 complicated cases in front of us, and I've been warned if they run long, there is a good possibility we won't make it today, and we'd go back into the soonest available slot… last case on Tuesday.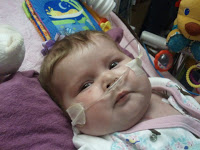 Not that I'm impatient or ANYTHING like that (HA!) and only half out of selfish reasons… please pray that the other two little baby's heart caths go GREAT today… that they are smooth and have great results and don't find anything disturbing. And if you want to pray that they don't last too horribly long… that's okay too:-)
So, all day yesterday, I could NOT wipe the smile off my face. My cheeks hurt from smiling so much, seriously! It was the first GOOD day we've had in a long time… even before Christmas Eve… when we thought we were going home, everything was so rushed, we were eying her temp and toying with low grade fevers, and everything was just tense.
Yesterday, and this morning, I just feel much more peaceful. Happy. I think God knew I needed a few peaceful days. Going home will be an adventure… and I'm pretty sure "peaceful" won't be an adjective I use very often for a while there. No… I'm not doubting here… just stating a fact. I have four children! Fun, adventurous, challenging, yes, but peaceful… that is a rare and needed gift:-)
THANK YOU all for your prayers thus far for our Journey. I pray you all have a safe and fun New Year's Eve, and pray blessings over you in 2011!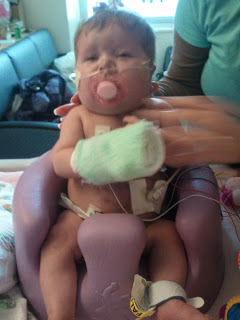 Annabelle tried out her Bumbo seat she got from Santa for the first time yesterday! She was still tired from running all her fevers… and I promise she has a diaper on even though you can't see… but yeah. I think she'll like it more when she's a little more awake!!