This is what I'd LIKE to eat for breakfast this morning: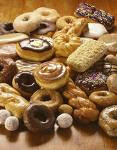 This is what I'm MAKING myself eat in the name of weight-loss:

Any questions?
Oh, I broke even this week, which is a MIRACLE because I ate horribly and didn't exercize even close to the amount I should have. Next week… here I come!
Everyone have a GREAT holiday weekend! No post on Monday… C-ya Tuesaday!
Discussion: Any grand plans for the weekend? Are you using the holiday to "play" or "catch-up" on writing?