A FUN post today!!!
I was asked to share about a contest for some of my FAVORITE authors, and of course I said YES! Not only because I love the authors, but because the giveway looks super cool so wanted to share with y'all!

Announcing
the FALL INTO LOVE ultimate
giveaway!
Join us as award-winning authors Tracie Peterson, Jody Hedlund, Nancy Mehl,
Melissa Tagg, and Jen Turano take us on a journey for love in their upcoming
novels. To celebrate the September/October book releases, we're hosting FIVE
incredible giveaways with ONE fantastic grand prize drawing. Enter
all five contests and receive FIVE entries into the grand prize drawing
with additional chances to enter the FALL INTO LOVE ultimate giveaway
throughout the month of September!
The Prizes: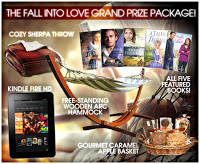 ONE GRAND PRIZE winner will receive the FALL INTO LOVE prize package –
a $500 value! – containing everything you need to snuggle up with a great
book…
A 16GB Kindle Fire HD for
all the books you want, right at your fingertips
Fall into love as you fall
into this beautiful free-standing wooden hammock
A Sherpa & Micromink
cream throw to keep you warm as the weather turns chilly
A selection of gourmet
caramel apples
A copy of each novel
represented (Unforeseeable by Nancy Mehl, Rebellious Heart by Jody Hedlund, A Talent for Trouble by Jen Turano, The Miner's Lady by Tracie Peterson,
and Made to Last by Melissa Tagg).
FIVE INDIVIDUAL PRIZE PACKAGES!
Fall into love
with these beautiful stories from 5 amazing authors, and enter each
contest for your chance to take home a meaningful part of their story.
To learn more about each novel and to enter visit
www.FallIntoLoveContest.com.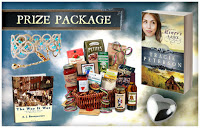 1) The Miner's Lady:
From award winning
author Tracie Peterson, comes a beautiful story rich with the comfort
of good food, the love of family, and the struggle for faith and
forgiveness. Have a seat in Nonni's Italian kitchen with a basket of
cultural delicacies and experience both the flavor and heart of
Italian America with The Miner's Lady Giveaway!
ENTER HERE…
AVAILABLE SEPTEMBER 1st!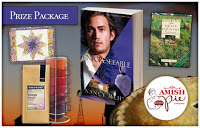 2) Unforeseeable: Settle into your favorite
reading chair with author Nancy Mehl's delicious story of intrigue, danger,
and suspense, all set against the serene setting of the small Mennonite
town of Kingdom. Enter the Unforeseeable Giveaway to bring the
delicious tastes of Mennonite life right into your home…
ENTER HERE…
AVAILABLE SEPTEMBER 1st!
3) Made To Last: From author Melissa Tag
comes the story of Miranda Woodruff, star of a home-building television
show who apparently has it all, until it all threatens to fall apart.
Read, laugh, and enjoy the hilarious misadventures of a heroine with
a tremendous amount of skill, a lot to lose, and even more to
discover about her own heart. As part of the Made to
Last Giveaway, experience the joy of having the right tools, the
right guides, and something beautiful to reward yourself with on a job
well done. ENTER HERE…
**Krista note: PINK TOOLS?!?!? Yeah, uh, I'm entering this one!!!!!) I mean, I'll probably enter ALL of them… but I need me some pink tools!**
AVAILABLE SEPTEMBER 15th!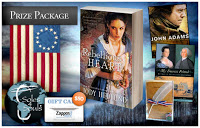 4) Rebellious Heart:
From Best selling
author Jody Hedlund, Rebellious Heart brings the history of 1763
Massachusetts to life with the story of socialite Susanna Smith and poor country
lawyer Ben Ross. When Susanna's decision to help an innocent woman no
matter the cost crosses with Ben's growing disillusionment with their British
rulers, the two find themselves bound together in what quickly becomes a
very dangerous fight for justice. Bring the fight for justice and liberty
to your home with this meaningful prize package.
ENTER HERE…
AVAILABLE SEPTEMBER 15th!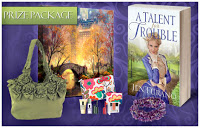 5) A Talent for Trouble:
Set in the
early 1900's, Jen Turano's spirited new book, A Talent
for Trouble, will leave you feeling like you have lived in
the Victorian era of New York City, strolled through Central
Park with your best hat on, and had a hilarious and
unpredictable adventure with a new friend. With the prize package
for A Talent for Trouble you can continue the adventure and
bring some of Felicia's journey home with you.
ENTER HERE…
AVAILABLE OCTOBER 1st!
How to Enter:

Click on one of the links or visit www.FallIntoLoveContest.com to
submit your information. Each week during the five-week contest, we will reveal
a new method of entering and increasing your chances for the grand prize.
Week
1: Enter one or all of the individual novel giveaways. For every individual giveaway
you enter, you gain one entry into the grand prize drawing. (Possible
grand prize entries: 5)
Week
2: Like one or all authors on Facebook. Every author liked gains you one entry into the grand
prize. (Possible grand prize entries: 5)
Week
3: Refer a friend. One
grand prize entry awarded per friend, per contest. (Possible grand prize
entries: 5)
Week
4: Submit a review of any book by one (or all) of the five featured
authors. 3
entries awarded per review per author (limit one per author). (Possible
grand prize entries: 15) **
Week
5: Pin a picture of you with one of the 5 featured novels. One grand prize entry awarded
per picture per novel. (Possible grand prize entries: 5)
To enter via the methods available week 2-5, visit each individual giveaway
and submit your information through the entry form. Follow the prompts for
completing your bonus entries.

***Reviews can be submitted to Amazon, Goodreads, or
your own blog. To enter the contest via this method, paste a URL to the
review in the entry form where indicated. Entries will be verified before final
grand prize drawing.
More Information:
For details about the contest, prize packages, entry methods, or contest rules,
visit www.FallIntoLoveContest.com.