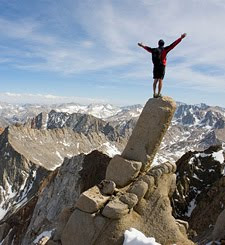 My girls are Hannah Montana fans (I know… huge shocker there!) A while back, she made "Hannah Montana: The Movie" featuring her song, The Climb.
Confession: I like the song:-)
There's just something great in the reminder to take in the scenery, to enjoy the ride.
But…
I was watching the HM movie last night with my kiddos (for the thirty-billionth time) and something struck me.
I don't REALLY agree with the song. "It's all about the climb…" is how it goes, and while I understand and love the concept … I still think it's all about the destination.
I'm thinking at the moment about, for example, pregnancy. I don't mind being pregnant, even though it brings with it morning sickness, back pain, extreme exhaustion, and hours of unbearable pain at the end. There are GOOD things about the climb that I enjoy, though. The feeling of my baby kicking my belly, seeing her move on an ultrasound, the feeling of joy that comes over me at just the thought of my little love growing inside me.
But I don't go through it for fun of the pregnancy. I go through it because of the little baby I get in the end!
And then there is the writing journey. I love creating, love networking with other writers, am thrilled by putting words onto a page and seeing a story unfold. It's exhilarating! There are parts I don't love quite so much, the rejections, the long waits, the emotional lows that come with fear of failure. I determine to enjoy the journey, but … I'll be honest. I don't think I would go through it all if I knew there was zero chance of achieving success. Oh, now I know it's a long shot. But there is hope. There is the dream. There is something I'm reaching for. Without the goal… there wouldn't be a journey to reach it.
Then there is life in general.
As a believer in Jesus… Heaven is my goal. Being with Jesus for eternity is my ending, and sharing Jesus with the world is my reason for being. The journey on earth is important, and it's filled with a ton of highs and lows. I'm determined to enjoy the life God has given me, but what God was really impressing upon me is that sometimes we get so wrapped up in ourselves, in trying to "have fun" on the journey that we forget our destination, our purpose. And other times, we get so wrapped up in lamenting about the "crap" part of life that we forget that it's just temporary, we forget that in the end, God has promised that He will reign victorious.
So, my advice to you this beautiful Friday: Enjoy your climb, but never forget about your destination, otherwise you might trip and fall down your mountain:-)
Discussion: How is YOUR climb these days?
****WINNER****
Congrats to T.Anne for winning Roseanna White's novel, A Stray Drop of Blood.