First, I have a few new followers I'd like to welcome!
Stephanie
Candee
Terri Tiffany
Susan Mills (aka Lazy Writer)
Kelly H-Y
Roxane Salonen
Jill Kemerer
Eileen Astels
Beth
WOW! I didn't realize it'd been so long since I welcomed followers! THANKS everyone for the follow!
*****
Sometimes we have to color outside the lines a little.
Case in Point:
Last night, I decided I'd do a little Wii Fit, so at 6:30, went to the TV to begin. I do the Freestep where I can step while I watch Wheel of Fortune. Makes the time go by faster.
Anyway. I plugged it in. I heard some static, but no picture on the screen. So, I did what every warmblooded human would do.
I wiggled the cord.
This has worked in the past, but no. I heard the little "do do do" music but NO picture. I proceeded to wiggle the cord, plug it in then take it out, turn the Wii off and back on, kick the TV, follow each cord to make sure they are still plugged in correctly, to no avail.
It was almost 7 by now, I was beYOND frustrated to have to go to so much trouble just to EXERCISE, something I didn't really want to do in the first place.
But it was more than that now. It was woman vs. machine. KRISTA MUST CONQUER STUPID WII!
Now, I'll explain a little about our setup. Our wii was hooked to the VCR's front jacks, and the DVD player to its back ones, and the VCR was then hooked into the TV. (confused yet?)
So I had the BRILLIANT idea that I'd just unplug the WII audio/video cables from the VCR and plug them directly into the TV.
But my TV is 36 inches, heavy, and butts up to the wall behind our entertainment center. Meaning, I can't see, and can barely reach the cables.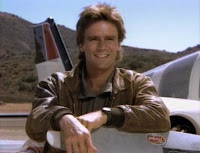 This is where the creativity comes in. I call this the Krista version of MacGyver.
"Karalynn?" I yelled.
She tromped down the steps. "Yes Mom?"
"I need a flashlight, stat."
Her nose scrunched up. "Stat?"
"Um, yeah. It means right now."
She couldn't find one, so I got off my lazy butt and searched, then found a weather radio with a hand crank flashlight. It'll do.
"Karalynn, now I need a mirror."
She jumped up and down. "OH! I know where one is!" She proceeded to run outside. Now, I'm thinking, WHY is there a mirror outside??
She returned and handed me a hairbrush that folds up and has a mirror on one side. "It was in the van."
Makes a little more sense.
So, you might be thinking right now: How am I going to fix the Wii with a hairbrush mirror and a weather radio flashlight?
I prop the flashlight behind the entertainment center and rest it on the cords so it shines directly on the input jacks (or at least where I THINK they are.) I then reach a hand in there with the mirror, so I can see the illuminated back of the TV through the mirror. GENIUS, I say, GENIUS.
I note where the video cable is currently plugged in at, then reach around and unplug it. I then check my mirror to make sure I got the right one. CHECK. Then I feel around again with the WII cords and insert the YELLOW one into the same jack. I recheck with my mirror, WOOHOO! Repeat with the audio cables.
I then turn on my TV, and STILL NO PICTURE.
Then I turn the channel and the WII picture comes on. Most likely this was the problem all along.
*sigh* But at least I got my 30 min of exercise in, and even though I missed Wheel of Fortune, WHO WANTS TO BE A MILLIONAIRE was on, so all was well. (I'm a sucker for game shows, if you didn't know.)
****bringing this back to writing****
There would have been no story to tell you here if not for my creative MacGyver moves. It would have been boring (subjective… it probably might still be!).
My point is… we need to get creative with our writing. Same ole, same ole is boring and won't sell. Find a fun plot twist, sprinkle your story with conflict and unique flare. Couple this with killer writing and you have a winner of a story.
Discussion: What gets your creative juices flowing? How do you take your manuscript from being cliche to being, "WOW"? Or… if you don't like that discussion point, you can just make fun of my creative *fix-it* moves. I don't mind:-)