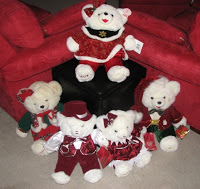 I'm a collector.
Of what you ask? Christmas Bears. You know the ones you see at Christmas time in Wal-mart, the Snowflake Teddies?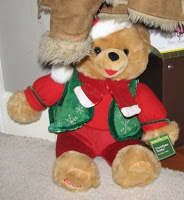 Back in, oh 1994 I believe, when I was 13 years old, I told my mom that I wanted one for Christmas, and I got one. I was SO excited, because I'm a huge traditional Christmas person. And I got one the next year. And the next year. When I married my husband, I informed him of the tradition that he must uphold to get me a Snowflake teddy bear each year.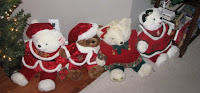 For a while, he went slightly overboard. One year I got THREE of them because, I think, he couldn't decide which one to get. Another year I got two. So I finally had to lovingly explain to him that at that rate, the bears would overtake our house.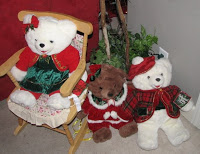 It is now 2009, and I have 17 bears (and one mouse that my mom THOUGHT was a bear in 1996) that decorate my house at Christmas. These are tossed around my living room and fill every available wall space during Christmas time.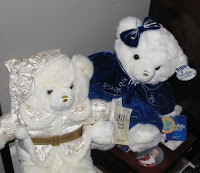 Um, we are festive, what can I say.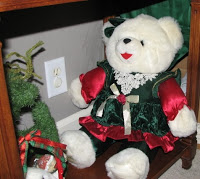 Discussion: What crazy traditions do YOU have?
WINNER: The winner of Jenny B Jone's "I'm So Sure" is KarenK! Congrats!!!