Crazy children moment(s) of the day:
WHAT SUCCESS IN TEACHING KIDS TO BE FRUGAL LOOKS LIKE:
Karalynn: Hey, Mom. I decided to save you printer ink.
Mom: Um, you did? How?
Karalynn (big, proud smile on her face): I'm writing out all of our school supply lists so you don't have to print them out!


This is coming from the child who asked me once, very loudly, at the checkout in Walmart when grocery shopping, "Mom, are you sure we can afford all this? This is gonna cost a LOT of money!"
WHAT FAILURE IN TEACHING KIDS TO BE FRUGAL LOOKS LIKE:
Gabby: Mommy, I decided what dress I'm going to wear everyday.
Mom: Oh really?
Gabby: Yes. In the morning for breakfast, I'll wear the yellow one with flowers. Then I'll change to the purple one. Then for lunch, I'll wear the orange one. After lunch, I'll change to the pink one, and for dinner, I'll wear this one (points to the pink/purple dress she currently was wearing.)
Then my frugal Karalynn spoke up: Mom, since she's not wearing them for long each day, I'm sure you don't have to wash them EVERYday.
*sigh* I love my kids!


On to WONDERFUL BREAKING ANNABELLE news:
I went to work (er, my clients office for whom I am doing periodic payroll consulting…) today…
And what text do I get from my hubby about halfway through the day?
"ANNABELLE ROLLED OVER BY HERSELF!!!"
NOT FAIR I say! I've been there working with her every stinkin' day, and the ONE day I leave…
Evidently she was on her back and trying to get the crinkle flower thing on her play gym, and just rolled right over onto her belly!
Of course, she would not duplicate this upon my return. But at least now I know she can do it!!!!!
It feels SO weird to be excited about my 11-month-old rolling over, but it is a BIG milestone and we are SO SO SO SO proud of our little girl!!!!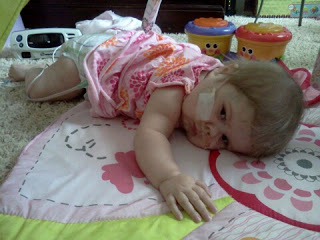 This is on her belly after she rolled over!