I work about 20 minutes from the hospital, and last night it took me 3 and a half hours to get here. Fun stuff. Ahhh, snow. Gotta love it. Kinda.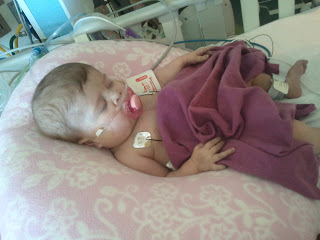 Annabelle officially has rhinovirus. Aka the Common Cold. Lacy has been a little under the weather earlier this week, and was here at the hospital all weekend, so this is probably the cause. However, one can never know if Lacy picked up the virus at the hospital either, so who knows!
Please pray that this passes FAST and that Annabelle can fight it well. I'm worried (er concerned) because Annabelle's poor heart function causes poor lung function, and well, obviously colds effect your lungs! Please pray that she can breathe well through the "gunk." She's already had to go to higher oxygen settings overnight, and is much more fussy today than she has been the last few days.