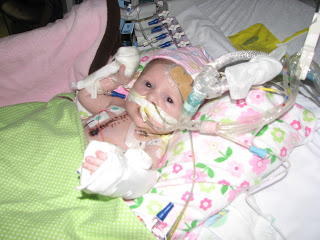 Annabelle – 3 weeks old!
So, I thought I'd do something a little different today.
And it might be a total epic fail, but here goes.
I talk about Annabelle a lot of my blog, obviously, and have asked for prayers for quite a few other little babies. The truth is, I follow the stories of a TON of little babies. It's a wee bit of a passion of mine, because so many prayed for Annabelle, I have a huge heart to pray for and support other heart kiddos and their parents. Yet, there are so many… and it gets overwhelming at times! It hurts my heart that I can't showcase ALL of them. Because they are all so precious in God's eyes, and mine!!!
So here is what I thought would be fun:
If you are a heart-momma or daddy of a CHD fighter or fallen hero…
Or if you are a relative or friend of a heart kiddo…
Or if you follow the story of a heart kiddo…
…leave a comment. You can leave just a name, or you can leave name and diagnosis, and you can leave a link to the blog/caring bridge of the child if you'd like. Really, as much or as little info as you want. If you have a specific prayer request for your little one right now, feel free to include that as well!
They can be in the hospital, or currently recovered, it doesn't matter. All our heart kiddos need bathed in prayer.
While I obviously can't follow ALL heart babies (my house doesn't clean as much as it should as it is!) I will promise to pray for them, specifically by name, each day of heart-week (and probably after too!) and my hope is that other blog readers will pray for the kiddos as they see names listed, this week specifically.
CHD awareness is not only about the "facts" of heart defects, but about being aware of all these little babies and children and even adults that suffer on a daily basis, and praying for them. It is so easy to click the X button and not read about them because it is sad. I've done that in the past myself.
But our goal is to show you that CHD is more than just some rare thing that affects a couple of super unlucky babies. It's widespread and all-too common. One in 100. That's a lot.
And my goal is to get us not only thinking about CHD, but getting on our knees and doing some serious praying for them!
If I get no comments… well, that's fine. I know everyone is busy. But I will comment myself later and list some that I know if need be!
Obviously, my list starts with Annabelle. Born with an unbalanced AVSD with hypoplastic left heart. Spent 339 days in the hospital. Doing great today, besides a nasty cold. Although that cold and pretty deep cough is starting to make me nervous, so prayers for this are appreciated!
Your turn!
(Also, if you don't follow a heart baby's story or aren't personally affected, I'm sure your comments that you are praying would help us heart-momma's out that read them! It really DOES mean a lot to us!)