*Baby Update*
I got my test results back from the amnio. Evidently babies with chromosome issues (such as Downs Syndrome) tend to have heart problems like my little baby has, so they did one to rule out that as well. I had the test on Wednesday (OUCH OUCH OUCH) and Friday afternoon, I got the preliminary results, which were NEGATIVE for chromosome issues. WOOHOO!!! We get the detailed results back sometime this week, but it was such a blessing to have this good news back before Mother's Day!
Now, we can focus our concerns and prayers on baby's heart healing!
And on to today's blog post: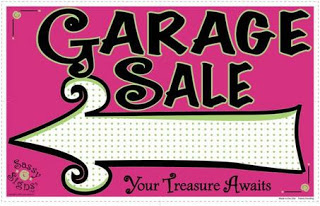 Given the upcoming influx of medical bills due to baby's condition and my need to take time off of work for maternity leave beyond the "paid" time, I am tightening our purse strings even more than usual. So, this means that I've been a garage saling/Craigslisting/eBaying fool. I mean, I was that way anyway, but now I'm fanatical about it.
That said, I thought I'd share some words of wisdom to those who buy/sell via these wonderful venues using some of the "duh" things I've seen.
Selling Tips
Price Matters when selling. Too low and you lose money, too high and people roll their eyes at you and walk on.
Always give a WEE bit of room for negotiating. People like it when they feel like they've "talked you down." Just don't go all car salesman on them.
Insanity is when you try for weeks and months to sell the same thing at the same price on Craigslist with zero luck, but expect better results each time you relist.
Be kind in your post. Listing your long diatribe of rules and things you "won't do" because of all the times you've been burned just makes you look bitter, and does NOT make me want to buy from you. In fact, it kinda makes me afraid of you to be honest!
Contact information is helpful, really. "Call me if you're interested" doesn't make sense if there is no phone number!
Your used junk… er stuff…. is NOT worth 50% off the retail price. That's called a sale at Kohls, not garage sale pricing.
Selling clothes for $1.00 an item seems really good, except if many of those items weren't even a $1.00 to begin with. Example: Baby Onsies. I can get a pack of them for $6-8.00… I'm NOT going to pay $1.00 a piece for used ones! Same for receiving blankets, bits, and baby socks. That's what $.25 and $.50 pricing are for (or bagging them 3 for $1.00)
Selling any piece of clothing at a garage sale for over $5.00 (I'd even argue over $3.00) is insane. If it's worth that much (i.e. name brand, NWT, perfect condition) sell it on eBay or a consignment shop.
NOTHING is a firm price (or should be a firm price) at a garage sale. The point of it is to get rid of junk and get a little dough out of it, not to make a profit. If you won't negotiate, you look like an idiot. Seriously.
Buying Tips
Don't insult the seller. Negotiation is expected, but asking $3.00 for something with a $10.00 price tag is just goofy. Unless of course they tell you up front that they are desperate to get rid of everything and to just make an offer. Then all deals are fine.
NEVER pay full price at a garage sale. Except in 2 cases below.
1.) Price is already ridiculously low, aka priced to sell. Insulting to ask for even less.
2.) NEVER negotiate for something that is marked a quarter or less. Rarely negotiate on a $.50 item. Otherwise, you look beyond frugal to just plain cheap.
If you're getting more than one item at a garage sale… don't negotiate each item. Negotiate the whole lot. They are much more likely to give you a good deal if you have an arm full of stuff verses one thing.
If you really want something but aren't willing to pay the price, try going back an hour or so later and seeing if it's still for sale. Chances are, the buyer will rethink their willingness to negotiate. But just be prepared that the item may be gone.
Flicking off the price tag and pretending to be ignorant about the price… not cool. Switching price tags… REALLY not cool. Handing someone a 5-dollar-bill and then swearing to them you gave them a twenty…. REALLY REALLY not cool!
I learned this the hard way. If you're interested in something on Craigslist, call instead of e-mail if there is a phone call, especially if you really want it and it's a really good price. Seller is most likely to answer the phone before checking e-mail.
eBay: One word. Last 10 second bidding. If you bid too early, you're just helping to raise the price!
Discussion: Does anyone else have any tips to share?? Are you a craiglister or garage saler, or am I the only insane one?