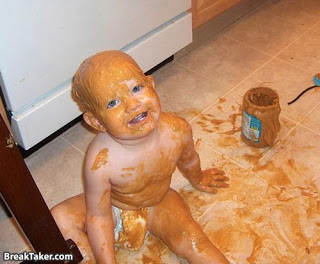 I'm really struggling right now where I'm at with my newest book.
I'm over a third done, approaching the half way mark. As I've said before, I'm a SOTP writer, but there comes a point where even I have to sit down and figure out where I'm at and reassess. That's where I'm at, and can I just say? It's brutal.
I have many *points* of my story concrete, and I LOVE THEM. I think overall things are going very well. But there are a few things that just aren't sitting well. I know this because when I try to explain this part of the story to my husband/sister/mother, they wrinkle up their nose. Talk about body language! That isn't good either. My sister said today about one particular instance today, "I just don't think that would happen…"
And I thought about it. And thought about it.
And here is my conclusion: It could happen. What is REALISTIC to one person could be totally off the wall to another.
Example: You're sitting at the table, enjoying a… um… brownie. Yes. Okay so you pick up your brownie, the LAST one out of the batch, and someone walks up behind you and scares you, causing you to drop said brownie on the floor. You pick it up in less than two seconds.
What do you do?
Do you throw said brownie in the trash and sniffle at your lost treat?
Or do you abide by the 5 second rule, blow off the bottom, MAYBE scrape a little bit of the bottom ONLY if you actually see a piece of dirt or something… then plop it into your mouth?
Now put this situation into a book. If I have character throw it in the trash because they aren't about to eat something that's been on the floor…. Okay, fine, no one is really going to think badly of this person. We might drool a little… but we can think this is reasonable, especially if character is a germophone.
BUT! The second scenario… many people would cringe and think it is TOTALLY horrible for someone to eat off the floor. I mean, who would do that? Completely unreasonable to have that happen, because no one in their right mind would do that.
But… then you have people like ME that would grin and nod their head, thinking that the author must have been in my house before when this happened and I thought no one was looking…
Bottom Line: Reasonableness is in the eye of the beholder.So then, how do we know HOW reasonable we need to be? Who do we cater to?
Krista's Answer: Our characters. They drive the story. We write their story. Would your character munch off the floor? Then GO FOR IT!
And that's what I'm learning about my characters, my antagonist and hero to be exact. It's not unreasonable if that's how they reacted. If I'm having a hard time with something, then I'm realizing that I just need to dig deeper into their character and get to know them better. I need to take them to lunch and let them just spill their guts to me. It's then that I will find out what makes them tick, what drives them, and WHY they react the way they do.
Discussion: Have you ever written something that you feared people would think was "unreasonable" or "unbelievable"?
Oh, and feel free to let me know if you'd eat the brownie or not. I'm interested in hearing what everyone would do!