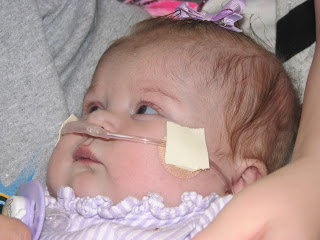 Still waiting on final word from Boston. Evidently the surgeon was out most of the week last week, so we hope to hear back something this week.
Annabelle got back off CPAP late last week and is on Vapotherm again. She's been stable, but VERY cranky the last few days. She's also developed a little cough over the last two days that worries me. I know it's normal and a sign that her heart is getting very tired functioning as is. That's why it scares me so much I guess.
Good news: She's doing well with her PT!! We are working, kinda, on sitting up, and every once in a while, while she is REALLY happy and not sleepy (rare!), we can have her sitting up, propped up with only a boppy, and let go… and she'll stay up for a few seconds. I know, maybe not HUGE by others standards, but I'm celebrating this win! We are still working on all the other things like rolling, grabbing toys, following things, and head control.How weird that my daughter will probably sit up before she rolls over?? But not sure anyone could roll over with all those cords, not to mention the gtube sticking out her belly!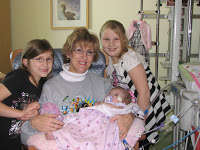 Snuggling with Grandma Johnson
(and Kara and Lacy!)
More Good News: After six months, we finally got our first primary nurses!! EEEEE!!! I hadn't asked for such a long time, because I didn't know I COULD, then I was too chicken, and then we were headed upstairs. But now that we are in the ICU until we get a heart, I want Annabelle to have familiar faces, and not that she doesn't get good care anyway, I think when she has the same nurses "usually" working with her, this continuity of care will help as well. So yeah… Rachel (day) and Ashley (night) are my (and Annabelle's) heroes this week! The BEST news is that they both know Jesus too, and while this wasn't mandatory for me, I am so very thankful for it!
Fun News: My sweet cousin came and took some pictures of Miss Annabelle tonight!!! Can't WAIT to share them with you! Should hopefully get them back tonight and will share them with you as soon as I get a chance!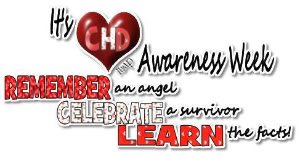 This Week: This week, February 7th – 14th, is set aside as CHD awareness week. In the past, I would have probably completely ignored or been oblivious to it. When you think of "heart" month, most people think of a parent who had a heart attack or someone who suffered with heart disease. Awareness is usually centered around eating heart-healthy foods and getting your blood pressure checked regularly. But this week is a special one in heart month because at the moment, there is no known cause for Congenital Heart Defects. Some of them are hereditary, passed on in our genes, but for babies like Annabelle, we really have no clue why her heart didn't form correctly. And unfortunately, even though one out of every 100 babies are born with a CHD, there is little funding out there for CHD research for both prevention and treatment. I can't tell you how many people have told me, "WOW! We had no idea baby's went through stuff like this!" I used to be one of those people too.
Anyway, my hubby and I are working on putting together a little something in honor of our little heart warriors and in memory of our fallen heart heroes. Hope to have it ready later this week to post on my blog:-) Will also be posting "heart" facts this week and ideas on how you can help the cause as well!
And of course, will keep you updated on my little heart warrior too!