In standing with my oath to keep my blogs this month all about love, I thought I'd finally post my review of Kaye Dacus' debut novel, Stand-In Groom.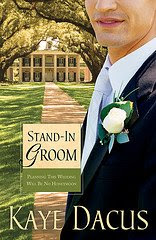 Get ready to attend the quirkiest wedding ever in this delightful romance by Kaye Dacus, a new voice in women's contemporary fiction. When wedding planner Anne Hawthorne first meets George Laurence, she thinks she's found the man of her dreams. But when she discovers he's a client, she knows planning his wedding will be no honeymoon. Can Anne remain professional while falling for the groom? Or will she risk her heart, her values, and her career in the midst of planning the wedding of the century?
My thoughts: I L_O_V_E_D Stand-in groom. I've made it no secret that I'm a romance novelaholic and this one was right down my alley. Romances are tricky, because the reader already knows the end. Guy gets girl, and if he doesn't, ohhhhh, the author is in SO much trouble. The fun is in how you get there, and Kaye delivers many twists and turns that keep you reading long into the night. Stand-in Groom is a GREAT read for this February! I'm looking forward to Menu for Romance, which releases this summer.