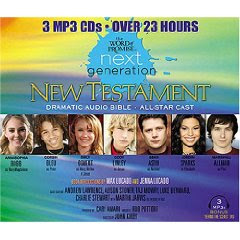 As part of the Thomas Nelson book review bloggers program, I signed up a loooooonnngggg time ago to review this mp3 version of the Word of Promise Next Generation Audio of the New Testament.
Why has it taken so long?
1.) I was trying to finish it all the way through and
2.) My best laid plans backfired.
My PLAN was to listen to this on the way to work everyday and on the way home. I'd get some AWESOME Bible reading in and have the Word of God telepathically ingrained in my head. Great idea, right?
Sorta. I still LOVE the idea… but these are MP3's, and my older car, while it has a CD player, does not play an Mp3 disk. And I've yet to come into the land of the NOW and get an MP3 player (my phone does have one on it… but what a pain that would be to hook it up in the car every morning. Seriously, I'm doing the 100 meter dash to get to the car every morning to try and make it to work on time as it is!)
But, let me back up and explain. This version is for the "nexter" Generation. It features popular teen stars narrating the Bible, and comes in a downloadable format, the Mp3 format, and a USB bracelet (and I believe an actual Bible too)
**Official Amazon Description**
Today's youth ingest media at a faster rate than any previous generation. And they can't get enough! The Word of Promise: Next Generation – New Testament is the perfect way for young multi-taskers to absorb Scripture. This ambitious recording makes the Word accessible to more kids than ever before.
Starring a Hollywood-level cast of young talent including Cody Linley (Hanna Montana, Dancing with the Stars) as Jesus, AnnaSophia Robb (Charlie and the Chocolate Factory) as Mary Magdalene, Jordin Sparks (American Idol Winner) as Elizabeth, Cobin Bleu (High School Musical) as Peter, Alyson Stoner (Cheaper by the Dozen) as Martha, and narrated by Sean Astin (Lord of the Rings). The project includes informative book introductions by author Max Lucado and his daughter, Jenna Lucado, who is a speaker on the Revolve® Tour.
The Word of Promise: Next Generation is much more than just a word-for-word reading: it's an all-star cast performing audio drama with a rich original score and Hollywood special effects. When Jesus walks on the water, kids will feel like they're in the boat. When Peter waits in the courtyard during the Lord's trial, the fire will crackle. The ambient sounds of the Holy land, the breath-taking musical score, the world-class young actors and the timeless Word of Promise all combine to deliver an unparalleled achievement.
Set includes 24 hours of audio drama on 3 mp3 CDs and a bonus 75 minute Behind-the-Scenes DVD featuring interviews with the actors.
***Krista's thoughts***
Considering most teens wouldn't be trying to listen to this on their car CD player like me, it's all good.
I haven't listened through the WHOLE thing, but I did listen to some of it, and I liked it. The one time I listened to a lot in one setting, I skipped church (sent hubby and kiddos off though) and was cleaning my house. I popped in the CD to my DVD player and listened to the Word while I did house work. The voices were fresh and not boring, and it was kinda fun to guess who they were.
For you teen who isn't a huge reader, or who has a love affair with their iPod… I think this is a great tool for them. In fact, I'll probably gift it to a teen or young adult in my life after I finish listening through the whole thing.
Discussion: I haven't had a "Bible" discussion here in a while, and I gotta admit. I love a good discussion on the Word.
SO! How about everyone share their most favorite verse… or verse God has used to impact you lately?